Which Famous Director Went Full Frontal In 'Popstar: Never Stop Never Stopping'?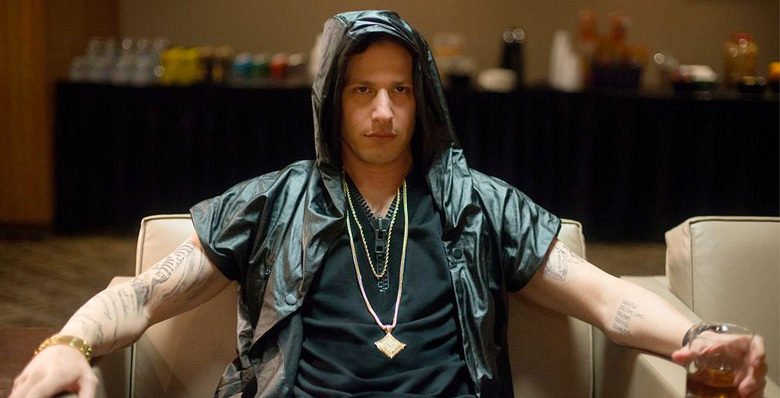 We're just one week away from the release of Popstar: Never Stop Never Stopping. The R-rated comedy from the comedic rap trio known as The Lonely Island (Andy Samberg, Akiva Shaffer and Jorma Taccone) features an endless array of cameos, some playing themselves, some playing ridiculous characters. However, there's one cameo in the movie where instead of seeing a well-known face, you only see a certain part of their anatomy that is sparsely seen on film.
In Popstar, there's a really funny sequence involving a fully exposed penis, and while you never see the face of the person the male member belongs to, the identity of this person is more than surprising. Find about the Popstar nude scene below.
The scene in question finds Conner4Real (Samberg) in a limousine with his two childhood best friends (Shaffer and Taccone).  The used to be a famous hip hop group before Conner got more famous than the rest of them and went solo. In this scene they're attempting to reconcile while a fan mob swarms the limo outside. As their conversation carries on, women scream at Conner, some press their boobs and butt against the window. At some point the window gets rolled down a bit, and one over zealous male fan uses this opportunity to stick his penis in the window for Conner to sign.
What's surprising about the scene is that the camera holds on the shot with this bared penis for a solid 10 seconds. It's one of the longest shots of a penis on screen that I can remember, and I'm impressed that it wasn't trimmed down.
Even more shocking is the revelation from Akiva Shaffer who told Page Six that the penis we see on screen belongs to none other than Knocked Up and Trainwreck director Judd Apatow. Shaffer explained to the gossip column:
"He wanted to show it because he was like, 'I've had this normal but really well-proportioned dick my whole life, and I've never shown it. And I'm afraid I'm getting older and going to lose the bod soon.'"
That sounds simultaneously silly enough to be a lie or 100% true. If memory serves me though, the penis doesn't look like it belongs to a man who will be turning 50 next year. I can't believe that's a sentence I typed out, but here we are.
More than likely this is just some kind of gag that Judd Apatow, who produced Popstar, planned with The Lonely Island. It's free publicity after all. Still Jorma Taccone backed up the claims on Twitter:
The word is out. Major Spoiler Alert! Get ready to see Judd Apatow's junk | Page Six https://t.co/iUB6YUdMmh

— The Lonely Island (@thelonelyisland) May 26, 2016
We may never know if this is really true, but when you go see Popstar next weekend (and you really should if you want some of the biggest laughs you'll have all summer), you just might be taking a gander at Judd Apatow's dangle.