Is Quinn Still Alive For 'Homeland' Season 6?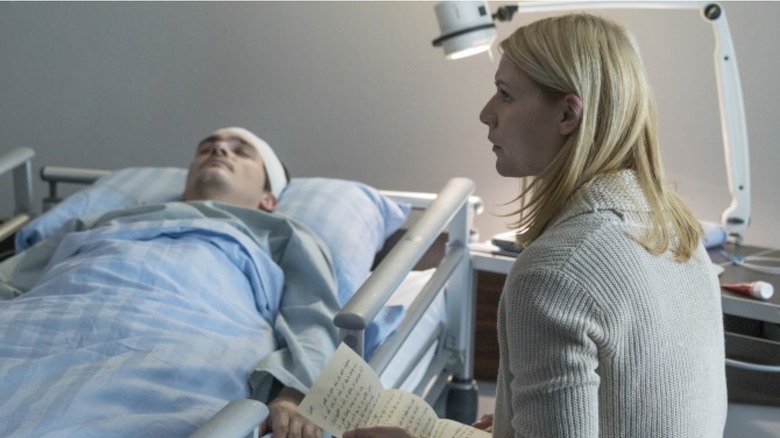 As Homeland season 6 is gearing up to return, many fans are wondering if Rupert Friend's character Peter Quinn will be part of the next adventure. I'm sure all will be revealed in the marketing for the upcoming season of this Showtime original series, but you have the choice of learning the answer now after the jump.
At the conclusion of Homeland season 5, CIA badass Peter Quinn was exposed to sarin gas and suffered a massive brain hemorrhage, making his chance of recovering any brain function minimal. At the end of the last episode, Carrie is seen removing Quinn's pulse monitor and places it on her own finger before we assume that she ends his life. But the episode ends with Carrie seeing a burst of sunlight come through the window. Is Quinn still alive? And if he is, what possible role could he serve in the next season of this show?
It is now confirmed that Rupert Friend has signed on to return as a full-fledged series regular for season 6 of the long-running political thriller, but what does that mean?
"I hope he enjoys eating through a tube," showrunner Alex Gansa joked to EW.com, before adding, "How [Quinn] is gonna be dramatized this year is going to surprise people, and it may not be what you think."
Rupert Friend told the publication that he believes Quinn 'will be a changed man and that we'll see a much more intimate and personal side to the mysterious character.' Ganda also mentioned that "Quinn really put his life in her hands at the end of last season and we will see what decision she made, but that's going to have repercussions moving forward for her and for that idea of Quinn as well." Showtime programming chief Gary Levine told the Television Critics Association in January that "If he should live, it will not be — in any way, shape or form — the way he has lived to date."
Yeah its hard to gather much from these comments but I'm guessing that Quinn will resent Carrie for his position, adding a more complicated layer to the already complicated relationship.
As for the story, Homeland season 6 will be set and shot in New York City which is a homecoming for the series which has spent the last couple seasons abroad. The story will take place during the two month period between Election Day and the swearing in of the new President of the United States.
"There is this strange period in America where there are 72 days when it's not exactly clear who's in charge, and there is a new president that needs to be educated on what it means to be president," Gansa told EW. "That is a very complex transfer of power filled with all kinds of anxiety and different competing interests... it's a dangerous time in our democracy."
One thing Gansa eludes that we shouldn't expect from the show's NYC story is another 9/11-like attack.