Watch: 'Key & Peele' And 'The Walking Dead' Helped Usher In Red Nose Day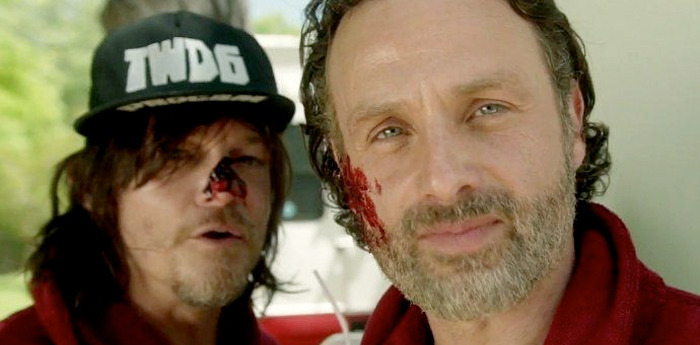 Yesterday, NBC followed through with their latest tradition of an annual Red Nose Day special, a star-studded fundraiser that helps support projects in some of the neediest communities in the U.S. and some of the poorest communities in the world. All of your favorite stars turned out for this event last night including Elton John, Julia Roberts, Will Ferrell, Jack Black, Paul Rudd, Seth Rogen, Zac Efron, Jeff Goldblum, Margot Robbie and literally dozens more.
Not all of the fun from last night's show is worth highlighting, but there were two segments that we just couldn't pass up. One features the return of Keegan-Michael Key and Jordan Peele to TV sketch comedy while the other has Norman Reedus and Andrew Lincoln from The Walking Dead imagining their own Red Nose Day special akin to the Star Wars Holiday Special.
Watch both the Key & Peele and Walking Dead Red Nose Day video after the jump.
First, here's the sketch with Key and Peele straight from NBC:
You know, even if Key and Peele did end up donating all the money they made from Keanu, they'd probably still be all right. Keanu didn't make a ton of money at the box office anyway. Plus, they've got plenty of projects coming down the pipeline, such as a stop-motion animated movie that teams them up with the director of The Nightmare Before Christmas. Plus, there's supposed to be a movie based on their Substitute Teacher sketch in the works.
Individually, Key is coming off a voice role in The Angry Birds Movie and Peele has his own horror movie that he'll be directing. So even after Key and Peele ended last year, the comedy duo will be all right.
Speaking of duos, Norman Reedus and Andrew Lincoln teamed up for this Red Nose Day segment:
Even though I know Andrew Lincoln is British and we've seen a whole different side of him in Love Actually, ever since The Walking Dead began, it's been weird hearing his native accent, especially when he has that beard. It's nice to know that he dreams of such wonderful specials while he's not shooting scenes from the AMC show.
Clearly the crew of The Walking Dead makes the most out of their cast too, because Josh McDermitt also appears to be a production assistant who bugs the hell out of Reedus and Lincoln. Hollywood is a tough business.
If you'd like to donate to the Red Nose Day cause and help out some needy people, you can head over here.