It's Morphin' Time Forever: Lionsgate Could Make Up To Seven 'Power Rangers' Movies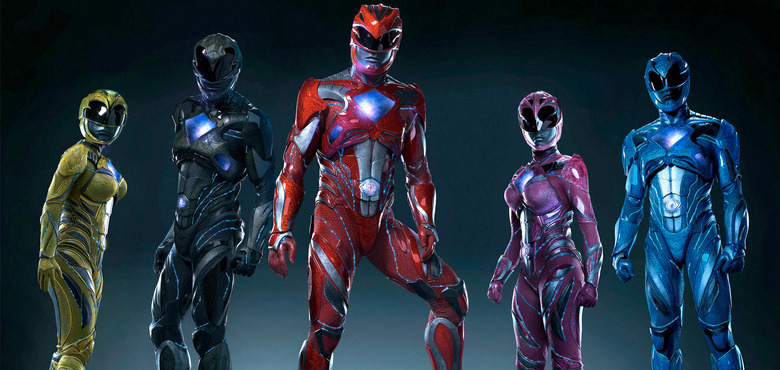 With Disney CEO Bob Iger thinking that Marvel movies could go on forever, and Transformers movies planned to the end of the decade, it should come as no surprise to hear that Lionsgate hopes their revamped Power Rangers movie will be the start of a new franchise. But Lionsgate CEO Jon Feltheimer may be just a little over zealous with his estimates for how many movies they'll make featuring the imported super team. In a conference call with analysts today, the CEO said:
"We are really, really excited about the 'Power Rangers' movie. We could see doing five or six or seven."
Lord have mercy on us all.
Maybe that's a little too mean. After all, we haven't seen the movie yet. But if the glimpses of the movie we've seen so far are any indicator, from the new Power Rangers suits to Elizabeth Banks as Rita Repulsa, this movie is going to be ridiculous. To be fair, it's not as if the original TV series was something groundbreaking and incredible for anyone older than 12 years old, but plenty children of the 90s were hoping this update might do something cool with the franchise.
Of course, we should probably reserve judgment for now, at least until the first footage is unveiled. But even if the first trailer looks great, I can't imagine being excited enough to want six Power Rangers sequels. More than likely, Feltheimer is just trying to be optimistic to analysts (via Variety) about the property and its potential to become a lucrative franchise. If Power Rangers doesn't turn out to be a hit, then we won't even get one sequel.
Power Rangers stars Becky G as the Yellow Ranger, Ludi Lin as the Black Ranger, Naomi Scott as the Pink Ranger, Dacre Montgomery as the Red Ranger and RJ Cyler as the Blue Ranger. The first photo featured the whole cast in their casual teenage garb, preparing to shoot a JC Penney magazine cover.
Project Almanac helmer Dean Israelite is directing Powers Rangers with a script from X-Men: First Class writers Ashley Miller & Zack Stentz, Need for Speed and Real Steel scribe John Gatins, and The Last Witch Hunter and Gods of Egypt writers Matt Sazama & Burk Sharpless. Most of those writers don't inspired much confidence, but we'll see what happens.Power Rangers is slated to hit theaters on March 24, 2017.