'Deepwater Horizon' Trailer: Mark Wahlberg Faces The Flames With Courage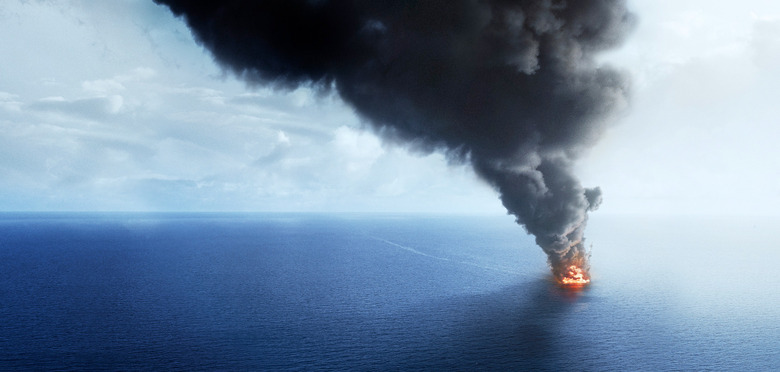 After facing prehistoric Transformers in 2014 and hanging out with a talking teddy bear in Ted 2 last year, Mark Wahlberg confronts something a little more real this fall in Deepwater Horizon. Based on the real life disaster, the film follows Wahlberg as a family man working on the title oil rig as anything and everything goes wrong, leaving the lives of those on the job that day in grave danger. A new Deepwater Horizon trailer shows just how intense things get.
Here's the new Deepwater Horizon trailer from Lionsgate:
The trailer isn't quite as compelling as that first trailer from a little while back, but they've capture the danger and suspense that comes with this kind of disaster perfectly. It looks every bit as intense as Peter Berg's last outing with Mark Wahlberg in Lone Survivor, but this time with the impending threat of almost unfathomable flames. Plus, there's no guarantee that Wahlberg will survive this time, adding to the stakes.
This time we also get to see more of the supporting cast, including Kurt Russell getting his face all messed up. The rest of the supporting cast includes John Malkovich, Dylan O'Brien (still recovering from The Maze Runner injury) Gina Rodriguez and Kate Hudson. The latter plays Wahlberg's wife, and it seems like there might be some flashbacks that help flesh out Wahlberg's relationship with his family in addition to the set up that takes place the morning of the disaster.
If you want to see more from Deepwater Horizon, watch the first trailer right here.
On April 20th, 2010, one of the world's largest man-made disasters occurred on the Deepwater Horizon in the Gulf of Mexico. Directed by Peter Berg (Lone Survivor), this story honors the brave men and women whose heroism would save many on board, and change everyone's lives forever.
Peter Berg (Lone Survivor, Battleship) is directing the screenplay written by Matthew Sand and Matthew Michael Carnahan (The Kingdom). The screenplay is based upon the 2010 New York Times article Deepwater Horizon's Final Hours by David Barstow, David Rohde and Stephanie Saul. Lorenzo di Bonaventura (Transformers, RED) and Mark Vahradian (Jack Ryan: Shadow Recruit, RED) are producing for di Bonaventura Pictures along with Wahlberg, Stephen Levinson, David Womark (Life of Pi) for Closest to the Hole and Leverage Entertainment. The film is executive produced by Jeff Skoll and Jonathan King at Participant Media.
Deepwater Horizon arrives on September 30.