This 'Finding Dory' Clip Will Make You Totally Sick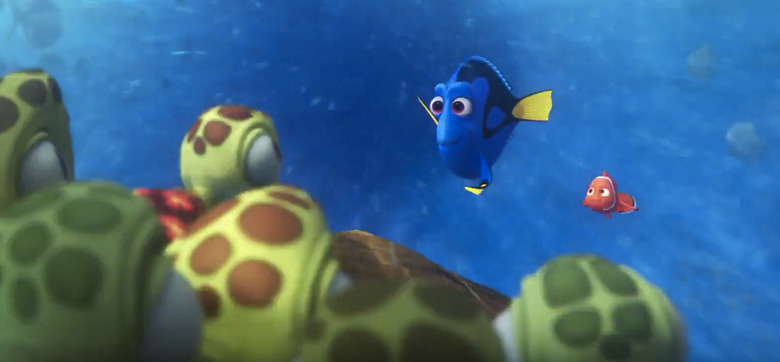 I was as hesitant about a sequel to Finding Nemo as anyone else, but the closer we get the release date of Finding Dory, the more optimistic I get regarding this whole film. It looks gorgeously animated, funny and charming. Most importantly, there are shreds of evidence in the various trailers that suggest this talking fish movie will reduce me to a blubbering mess in true Up and Inside Out fashion. Bring it on, Pixar. This wouldn't be the first time you've brought a sledgehammer down upon my fragile emotions.
The first Finding Dory clip that has debuted online doesn't feature any heartstring tugging, but it does feature the return of few familiar faces and it's perfectly adorable.
Although Finding Dory is set to introduce a bunch of new characters, including Ed O'Neil as Hank the octopus, Kaitlin Olson as Destiny the whale shark, and Ty Burrell as Bailey the beluga whale, this clip brings back two of the most endearing characters from the first film: Crush the sea turtle (voiced by director Andrew Stanton) and his pipsqueak son, Squirt. They probably won't play a very big role this time around, but they look like important players early in the film, transporting our heroes across the ocean to track down Dory's parents.
Cute, right? I'm surprised by how much I enjoyed seeing Crush and Squirt again, which is a testament to how instantly lovable these characters were back in 2003. Here's the official synopsis for Finding Dory:
Disney•Pixar's Finding Dory welcomes back to the big screen everyone's favorite forgetful blue tang Dory (voice of Ellen DeGeneres), who's living happily in the reef with Nemo (voice of Hayden Rolence) and Marlin (voice of Albert Brooks). When Dory suddenly remembers that she has a family out there who may be looking for her, the trio takes off on a life-changing adventure across the ocean to California's prestigious Marine Life Institute, a rehabilitation center and aquarium.
In an effort to find her mom (voice of Diane Keaton) and dad (voice of Eugene Levy), Dory enlists the help of three of the MLI's most intriguing residents: Hank (voice of Ed O'Neill), a cantankerous octopus who frequently gives employees the slip; Bailey (voice of Ty Burrell), a beluga whale who is convinced his biological sonar skills are on the fritz; and Destiny (voice of Kaitlin Olson), a nearsighted whale shark.
Deftly navigating the complex innerworkings of the MLI, Dory and her friends discover the magic within their flaws, friendships and family.
Finding Dory is set to open on June 17.