'Carnage Park' Trailer: Two Bank Robbers And A Hostage Walk Into A Sniper's Playground...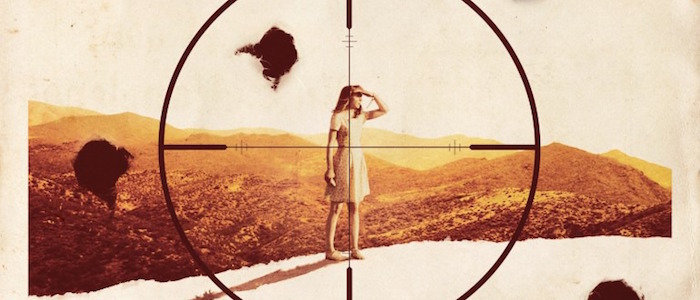 My personal jury is still out on director Mickey Keating, but one thing has become increasingly clear over the past two years or so: he's here to stay. His new film, Carnage Park, rode a wave of generally positive buzz at Sundance and SXSW this year and the first trailer makes this look like the film that could break him out of his current niche. That is, if he even wants to break out of his current niche. Keating's work certainly suggests that he is perfectly happy making films directly for already-entrenched horror fans and trash cinema aficionados. Carnage Park looks more accessible than his previous films, but it also looks like it's in his usual grimy wheelhouse.
Carnage Park has a great sleazy premise. Two criminals rob a small town bank and escape into the desert with a hostage in their trunk. The local police, wanting to end things as quickly and efficiently as possible, recruit a deranged sniper to take care of the problem. Violence and screaming and running and driving down isolated roads ensues. Ashley Bell is the hostage. The great Pat Healey is the sniper. Horror legend Larry Fessenden is around too, although he's not seen in the actual trailer.
Although I missed Carnage Park at this year's SXSW, I did catch Keating's Pod at last year's SXSW and his Darling at last year's Fantastic Fest. The man works fast. Although I didn't fall in love with either of those movies, Keating is undeniably a fresh voice in the realm of indie horror, the kind of filmmaker who wears his many influences directly on his sleeve while finding his own fresh ways to twist and contort familiar premises into startling new shapes. While Pod and Darling felt like scrappy little productions held together with grit and spirit gum, Carnage Park looks more polished and more cinematic. It's the kind of movie that seemingly has the budget to look like a proper throwback.
Here's the official synopsis for the film:
This pure-pulp thrill ride jumps between past and present as it pieces together the puzzle of a shocking crime. It's 1978 and a bank robbery gone wrong leaves Vivian (The Last Exorcism's Ashley Bell) the hostage of two criminals on the run. But things go from bad to off-the-rails berserk when she and her captors wind up on the sun-baked desert outpost of a deranged ex-military sniper (Pat Healy), who ensnares them in his deadly game of cat and mouse. Rising horror auteur Mickey Keating (Pod, Darling) directs this gritty, grisly homage to the glory days of grindhouse cinema.
Carnage Park arrives in theaters and on VOD on July 1, 2016.