More 'Suicide Squad' Spin-Offs May Be In The Works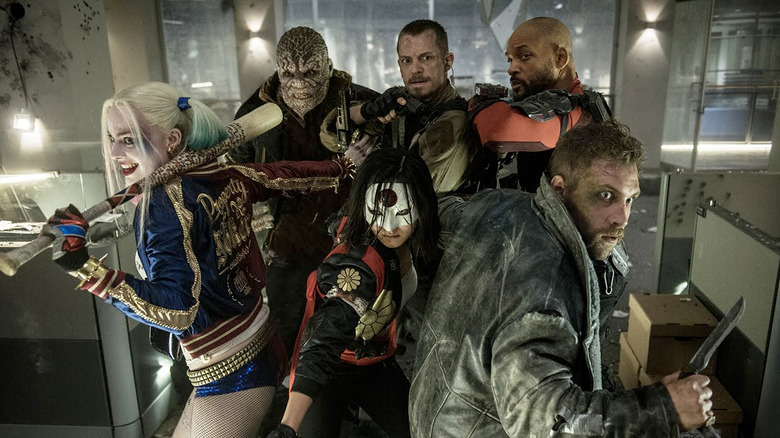 Just over a week ago, we learned that Warner Bros. Pictures was considering expanding their future roster of DC Comics films with a spin-off that would focus on Margot Robbie reprising her Suicide Squad role as Harley Quinn. Instead of being a solo outing for the villain, the movie would feature a new ensemble of characters with Batgirl and Birds of Prey mentioned as possibly appearing. However, she might not be the only Task Force X member getting a spin-off.
A new rumor reveals that Warner Bros. is also considering other Suicide Squad spin-offs for the other members of the villain team being assembled on the big screen for the first time this summer. Find out more below.
We Got This Covered has the rumor from a source claiming to be familiar with the studio's future plans for the Suicide Squad franchise. We already know a Suicide Squad sequel is in the works, but developing multiple spin-offs seems like a little more wishful thinking than anyone might advise, especially considering the shaky ground the DC film universe is on right now.
According to the source, Warner Bros. is confident that Suicide Squad will be a big hit, and audiences will love the characters enough to want even more from them outside of a sequel:
"I've heard more than a few talks of giving some of the other Task Force X members their own spinoffs, and like the Harley Quinn one, these films would open the door for a ton of new DC characters to show up.
The Joker is a definite possibility for a spinoff, and Jared [Leto] seems up for it from what I've been told. They're also really hot on Jai Courtney's character Boomerang right now. Nothing's set in stone yet, but you're definitely going to be seeing a lot more of these guys in the years to come."
So these spin-offs won't just gives the characters their own solo adventures but have them among an ensemble of other DC Comics characters. That seems excessive, but this plan probably isn't intended for all the characters. More than likely Warner Bros. is just looking into the possibilities there might be for spin-offs as opposed to solidifying any plans just yet. For my money, Deadshot seems like the best option, if only because we know Will Smith is a solid leading man. But maybe some other characters will prove themselves worthy of a spin-off when Suicide Squad arrives on August 5.