Star Wars Bits: Preview Marvel's New Han Solo Comic, An Impressive LEGO Death Star, And The Saga Of The Chewbacca Mom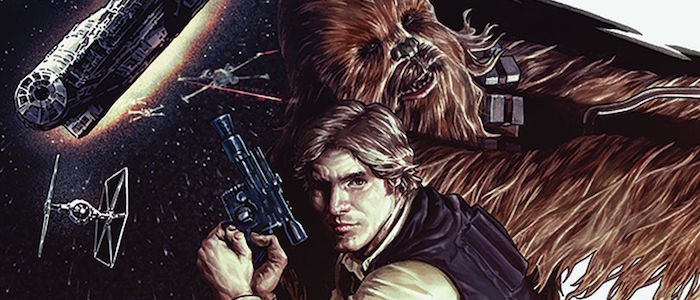 In today's Star Wars Bits:
Artist Scott Park pays tribute to the crew(s) of the Millennium Falcon.
Dave Filoni wants Ewan McGregor for Star Wars Rebels.
One seriously impressive LEGO Death Star.
A comedian shares stories of getting photos with the Star Wars cast.
The entire known history of space pirate Hondo Ohnaka.
The real reason for the Millennium Falcon's distinct shape.
A preview of Marvel's upcoming Han Solo comic series.
The complete saga of the Chewbacca Mom so far.
Star Wars turns 39 years old today.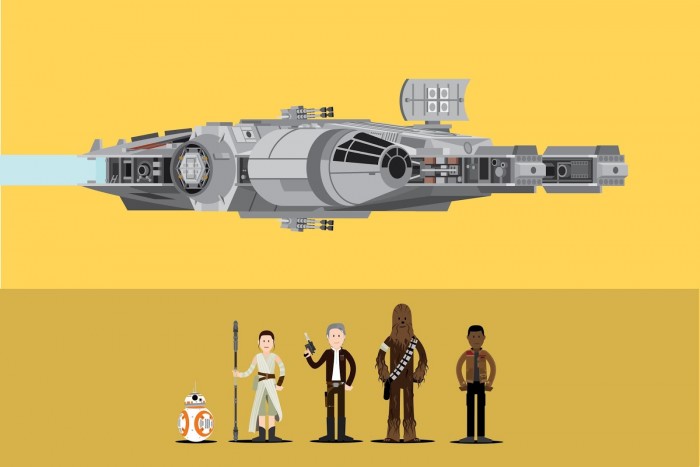 Artist Scott Park has created two new charming art pieces celebrating the various characters who have inhabited the Millennium Falcon. Pictured above is "New Friends," which depicts Han Solo, Chewbacca, Rey, Finn and BB-8 under the that famed ship/freight-psuher. Below is "Old Friends," which utilizes the same style and a different color scheme to feature Han, Chewie, Luke, Obi-Wan, Leia, C-3PO, and R2-D2.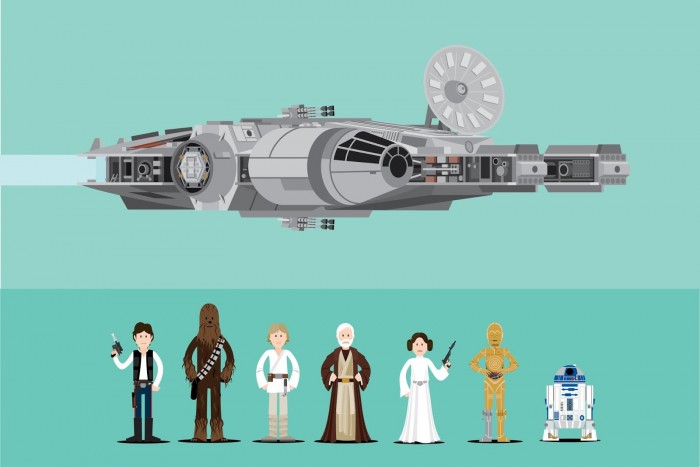 When Obi-Wan Kenobi made a brief appearance in a holographic message during an episode of Star Wars Rebels, showrunner Dave Filoni recruited Star Wars: The Clone Wars voice actor James Arnold Taylor for the part. However, in a new interview, Filoni revealed that he would like Ewan McGregor to voice Obi-Wan should the character ever return to Rebels:
Ewan is absolutely someone on our radar, we would love to have him be a part of the show, for sure. We're interested in anybody, really, that performed in the films, it's always great to have that direct tie and to have people that have portrayed the character before. I do have a unique situation with Obi-Wan as James Arnold Taylor was my Obi-Wan in Clone Wars for a long time so I used him early on in Star Wars Rebels, that was meant as a nod to people who had watched that animated series.
McGregor played Obi-Wan in prequel trilogy, where he was a bright spot amidst, uh, just about everything else in the prequel trilogy. Of course, he would be far more expensive than Taylor and he may not even prove interested in lending his voice to animated television series, but we shall see.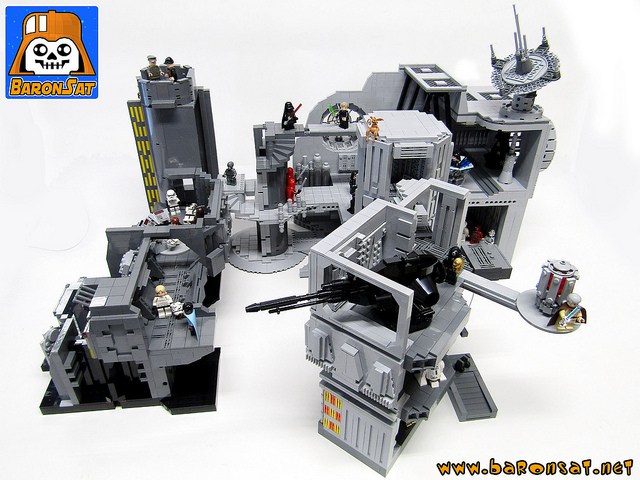 LEGO builder extraordinaire Eric Druon has constructed an elaborate Death Star interior that recalls the elaborate action figure play sets of the '80s. I'm not always one for nostalgia, but this is a cool project and Druon has nailed the look and feel of these classic toys, including how the set is comprised of three different locations (Battle Station Escape, Battle Station Compactor and Battle Station Throne Room) that can be pushed together or played with separately. You can follow this link for instructions on how to build this on your own.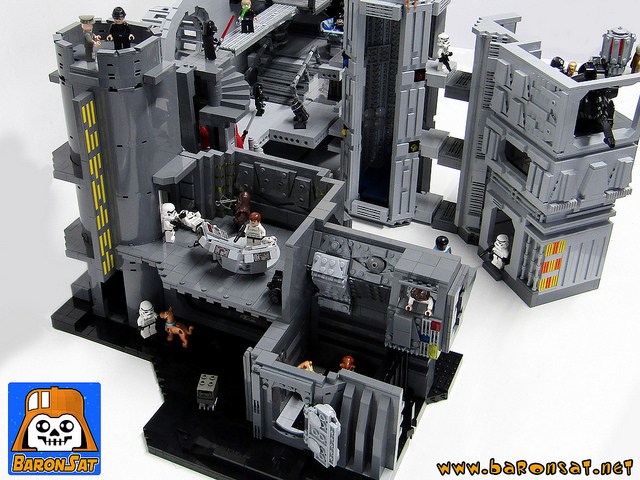 Last year, comedian James Calabrese decided to spend his tax return on having his photo taken with various Star Wars cast members at Star Wars Celebration in Anaheim, California (an endeavor that isn't cheap, to say the very least). He has shared the fruits of his labors on The Chive and photos are a hoot. Even better is his commentary for each photo, where he explains which actors cooperated with his shenanigans and which barely interacted with him at all. The best of the bunch by far is his Mark Hamill anecdote:
James: Mr. Hamill it is a true pleasure to meet you. Do you mind if we get a little creative for this photo?
Mark: *immediately pops up from chair ready to go because he's a fucking G*
James: Can I put this lanyard on you like Leia presenting you with the medal at the end of episode 4 after you blew up the Death Star and saved the Rebel Alliance?
Mark: of course
James: places the lanyard around his neck ever so gently
Mark: *turn to camera with classic finger point
The latest episode of Star Wars Minute focuses on Hondo Ohnaka, the space pirate who played a recurring role in Star Wars: The Clone Wars and has popped up yet again in Star Wars Rebels.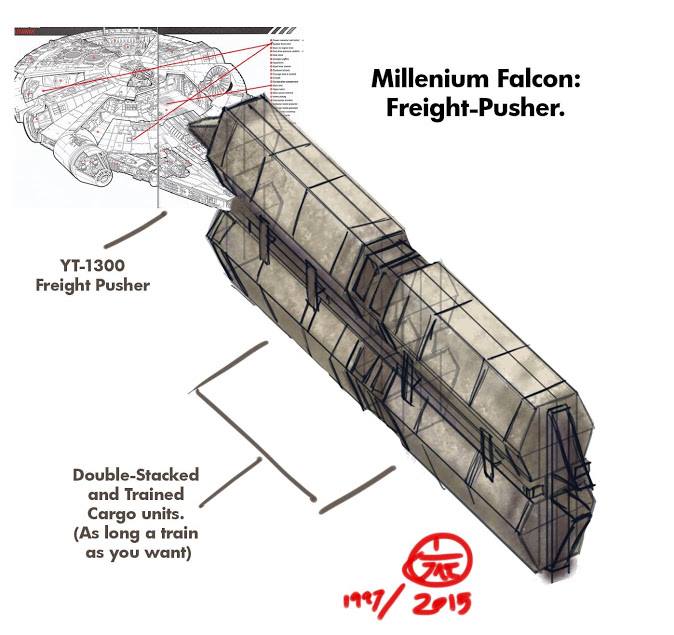 Have you ever wondered why the Millennium Falcon has such a distinct shape? Well, it turns out that the distinct tip of Han Solo's trusty ship aligns perfectly with the freight container seen around the Star Wars universe. Consider this your reminder that the second greatest ship in all of science fiction is really just a glorified tugboat.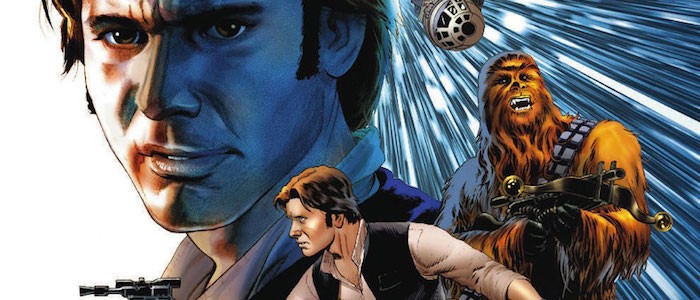 Writer Marjorie Liu and artist Mark Brooks' Han Solo comic book series doesn't arrive until June 15, but the Nerdist has shared a few preview pages and they're pretty stunning. Naturally, the star of the show here is Brooks' detailed art because the preview doesn't include any of Liu's dialogue. You can check out the preview pages in the gallery below. Here's Marvel's official synopsis for the series:
Han Solo has finally entered his ship into the Dragon Void Run – an infamous high-stakes race across the stars. You know, the race Han has dreamt of winning. Only there's a catch – his entry into this legendary race is a top-secret undercover mission for Princess Leia and the Rebellion! Will he keep his mind on the mission? More importantly – can he manage to pull it off while still maintaining his lead in the race?!
First, the video of Candace Payne joyously trying out her brand new toy Chewbacca mask went viral, racking up over 112 million views on Facebook alone. It's easy to get cynical about stuff like this, but her sheer joy and childlike glee will surely melt all but the iciest of hearts. It's not often that a video based entirely on another person experiencing genuine happiness goes viral like this. In a year that has seemingly been dominated by bad news, this is a gentle reminder that sometimes the simple things can make all of the difference in the world.
And then Kohl's, who sells the currently-sold-out Chewbacca mask, decided to send her family a mountain of free merchandise (and earn themselves a few positive headlines in the process). You can see the Payne family's haul in the image below. Whoever says that being internet-famous won't get you paid? Well, it gets you paid in a bunch of licensed plastic crap, but it's something.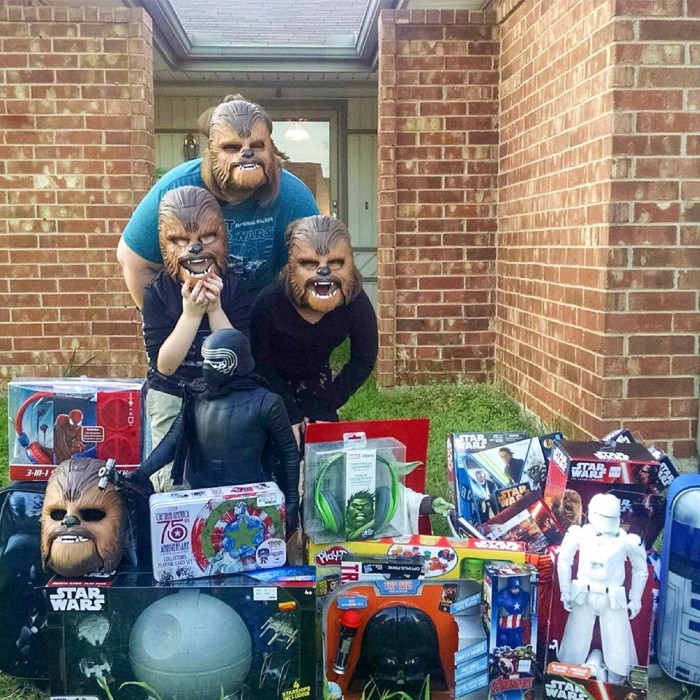 And now, we have reached Peak Chewbacca Mom. Candace Payne was invited to appear on The Late Late Show With James Corden, where she sat in a car with the host and partially re-enacted her whole bit. Corden, personifying the cynical response to the video, doesn't seem too impressed...until J.J. Abrams pops in out of nowhere, transforming a below average sketch into a pretty good one.
And in what feels like the grand climax of the whole Chewbacca Mom saga, Corden then had Payne on the show proper for a brief interview, which features a touching letter and invitation from Peter Mayhew, the man inside the original Chewbacca costume. The only real downside to all of this is that now we're going to get a wave of people putting on Star Wars merchandise in a desperate attempt to earn their fifteen minutes of fame. Just watch.
And finally, Star Wars turns 39 years old today. It's hard to believe it's been that long since we first went to a galaxy far, far away. Now we're heading into uncharted territory all over again with endless Star Wars movies on the way. Happy birthday, Star Wars!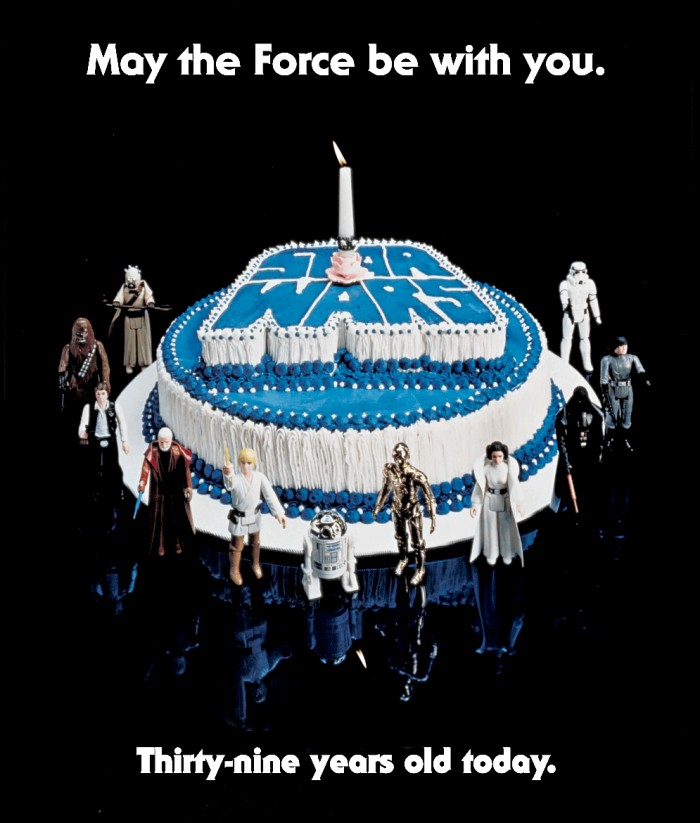 That's all for Star Wars Bits. Stay tuned for more soon.