'Sing' Trailer: These Animals Really Have Some Pipes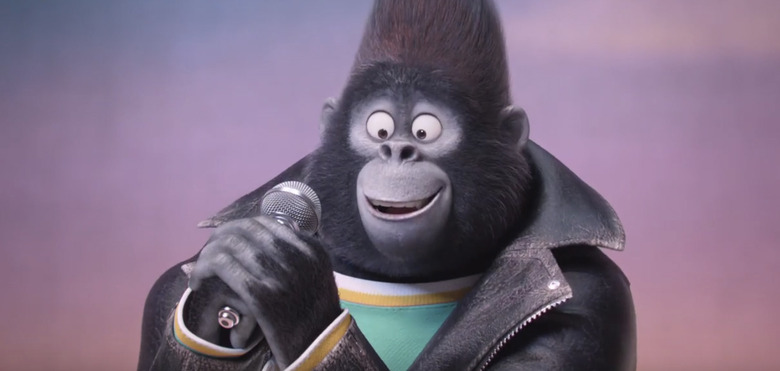 Illumination Entertainment has a couple of new animated movies hitting theaters this year. The first is the animal adventure The Secret Life of Pets, arriving this summer. But just before Christmas, Illumination will get musical with Sing. In what is basically Zootopia meets American Idol, one koala (Matthew McConaughey) decides to put on a huge singing competition to save his theater, and some average animals with incredible pipes look at it as their opportunity for a better life. Of course, it's all fueled by an endless array of popular songs from yesterday and today.
Watch the new Sing trailer after the jump.
This trailer starts to focus in on the main characters that we'll be rooting for in Sing, including Reese Witherspoon as an overworked mother pig, Taron Egerton as a gorilla who doesn't want to be part of a criminal gang, Seth McFarlane as a hip little mouse, Scarlett Johansson as a rockin' porcupine, recording aritst Tori Kelly as an enthusiastic but nervous elephant and Nick Kroll as a funny, foreign pig.
Illumination Entertainment hasn't exactly been consistent with their animated offerings. Despicable Me being pretty great, the sequel not quite as good and Minions was a true disappointment. Plus The Lorax didn't offer anything particularly memorable either. But Illumination's offerings this year actually look pretty decent.
The soundtrack will really be a key player in the movie, and it reportedly packs a whopping 85 songs. So writer and director Garth Jennings (Son of Rambow, Hitchhiker's Guide to the Galaxy) has plenty of musical sequences in store for this animated family comedy. If you want to see more, you can watch the previous Sing trailer right here.
Set in a world like ours but entirely inhabited by animals, Sing stars Buster Moon (Academy Award® winner Matthew McConaughey), a dapper Koala who presides over a once-grand theater that has fallen on hard times. Buster is an eternal optimist—okay, maybe a bit of a scoundrel—who loves his theater above all and will do anything to preserve it. Now facing the crumbling of his life's ambition, he has one final chance to restore his fading jewel to its former glory by producing the world's greatest singing competition.
Five lead contestants emerge: A mouse (Seth MacFarlane) who croons as smoothly as he cons, a timid teenage elephant (Tori Kelly) with an enormous case of stage fright, an overtaxed mother (Academy Award® winner Reese Witherspoon) run ragged tending a litter of 25 piglets, a young gangster gorilla (Taron Egerton) looking to break free of his family's felonies, and a punk-rock porcupine (Scarlett Johansson) struggling to shed her arrogant boyfriend and go solo. Each animal arrives under Buster's marquee believing that this is their shot to change the course of their life.
Sing arrives on December 21.