'Independence Day: Resurgence' Extended Trailer: Nearly Five Minutes Of Alien Mayhem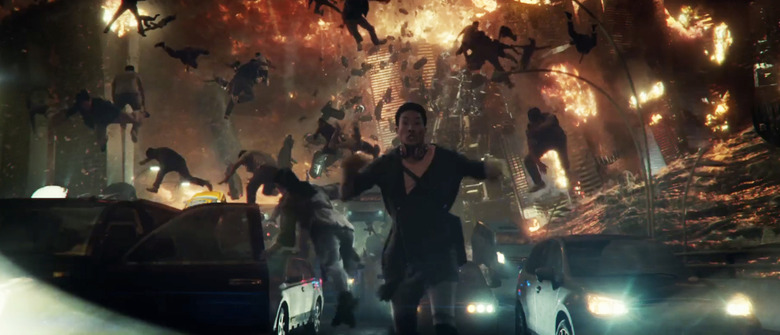 With just over a month until the aliens come back to finish the job in Independence Day: Resurgence, a new extended trailer gives us our longest look at the blockbuster sequel yet. A bunch of new footage combined with what we've seen in the previous trailers gives us our best glimpse yet at the story, characters and pure destruction awaiting us this summer. However, I will say if you're already on board with seeing this movie, don't watch this trailer, because it shows a little too much.
If you're still interested, watch the Independence Day Resurgence trailer after the jump.
The basic story is laid out right here for us with Jeff Goldblum discovering that a distress call was picked up by the rest of the alien species, a signal that was sent out when the mothership was destroyed 20 years ago. It's a little convenient that it took pretty much exactly 20 years for the aliens to return, but does it really matter?
The trailer gives us our first look at Charlotte Gainsbourg in the movie, helping David (Goldblum) to learn of this bad news. Plus, we get a little more insight into the relationship that Liam Hemsworth's pilot character has with Maika Monroe, the daughter of President Whitmore (Bill Pullman), who inherited the fighter pilot skills that her father displayed in the first movie and will likely use again this time. But I'm getting the feeling President Whitmore is going to die this time, though it won't be at the hands of that alien, because he shaves that beard and puts on a flight suit later in the movie
The rest of the cast includes Judd Hirsch, Vivica A. Fox, Brent Spiner and Sela Ward. Roland Emmerich is back in the director's chair, and there's a chance he may be back for another sequel if this one does well at the box office.
We always knew they were coming back. After Independence Day redefined the event movie genre, the next epic chapter delivers global spectacle on an unimaginable scale. Using recovered alien technology, the nations of Earth have collaborated on an immense defense program to protect the planet. But nothing can prepare us for the aliens' advanced and unprecedented force. Only the ingenuity of a few brave men and women can bring our world back from the brink of extinction.
Independence Day: Resurgence invades theaters on June 24.