'Mr. Ed' Star & Scrooge McDuck Voice Actor Alan Young Has Died At 96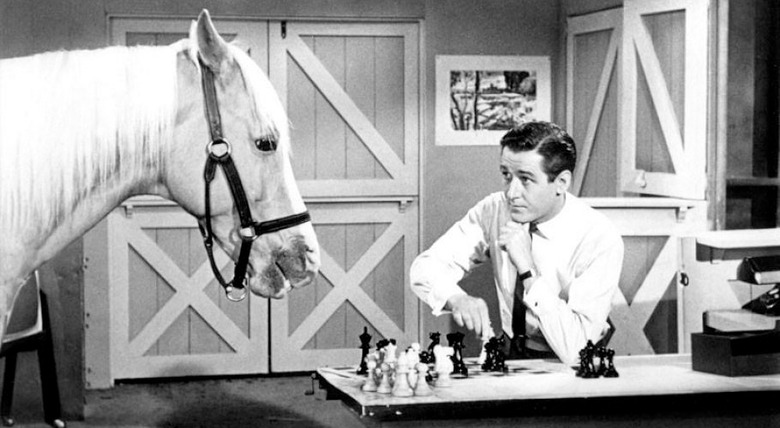 It's been a tough year for losses in the entertainment industry. Musicians like Prince and David Bowie left us along with comedian Garry Shandling, veteran actress Doris Roberts and the incredible Alan Rickman. Now one more name from the days of classic television and the nostalgic 80s has passed away. Mr. Ed star Alan Young, who was also the voice of Scrooge McDuck on the animated series DuckTales, passed away yesterday at age 96.
News of Alan Young dead was revealed by Deadline, confirming the actor has passed away at the Motion Picture and Television Fund campus in Woodland Hills. The actor had a long, decorated career that saw him starting in radio, working in the Royal Canadian Navy during World War II, and eventually transition to television and movies.
Young's career in entertainment took off in 1944 when he created his own radio show called The Alan Young Show, a sitcom that was broadcast by NBC and ABC throughout the 1940s.  The comedy program was eventually turned into a full fledged variety TV at CBS that lasted for three years and won two Emmys.
The 1950s brought Alan Young to the movies with roles in films such as Androcles and the Lion, Gentlemen Marry Brunettes, Tom Thumb and an adaptation of H.G. Wells The Time Machine in 1960. But the next year would bring the role that Young would become famous for.
Alan Young was cast as Wilbur Post, an architect who learns that he has a talking horse in the sitcom Mr. Ed. Beginning in 1961, the series would last five years for a total of 143 episodes. It would later make a comeback on television in reruns by helping Nickelodeon's late night program block, Nick at Nite, get off the ground.
After the show was canceled in 1966, Young left the industry for about 10 years. But when he returned, he found a new arena for his talents by using his voice. He voiced a couple characters on the show Battle of the Planets, but it was in 1983 that he would land the role he would be playing for the next 30 years.
Young debuted as Scrooge McDuck in Mickey's Christmas Carol, and he would reprise that role many times over the years, most famously in the DuckTales animated series that ran from 1987-1990. In addition, Young would also lend his voice to Alvin & The Chipmunks as a bunch of various voices, The Smurfs as Farmer Smurf, The Incredible Hulk, Spider-Man and His Amazing Friends and The Ren and Stimpy Show.
But Young didn't only stick to animation as he also had guest roles on The Love Boat, The Dukes, St. Elsewhere, Doogie Howser M.D., Coach, Party of Five, Sabrina the Teenage Witch, ER and The Tony Danza Show. He also had a cameo in the new adaptation of The Time Machine in 2002.
In recent years, Young had slowed down his work flow, only voicing Scrooge McDuck a couple times in the last two years. That leaves some big shoes to fill for anyone who wants to step up and voice the Scottish duck millionaire.
Alan Young is a true veteran of acting who lived through the evolution of entertainment from radio to television and films in between. He will be missed, and our thoughts go out to his friends and family during this difficult time.