Shane Black Reveals His Plans For 'Lethal Weapon 5'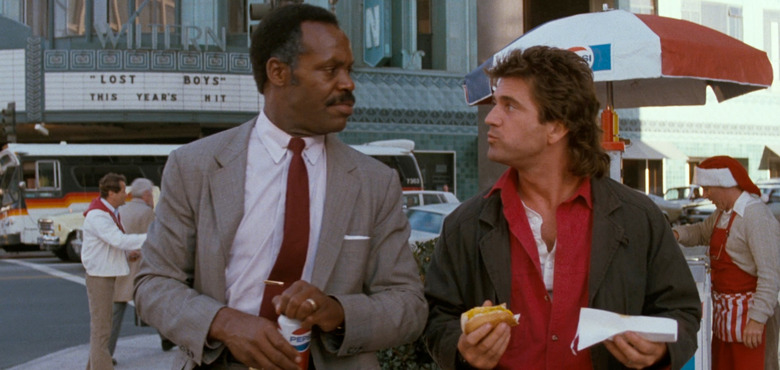 This weekend you should be heading out to support the original dark comedy crime caper that is The Nice Guys. It's the latest film from Kiss Kiss Bang Bang and Iron Man 3 director Shane Black, and it's a refreshing summer flick with plenty of laughs, bullets, blood and 1970s flare. Ryan Gosling and Russell Crowe make for an outstanding duo who deserve their own TV show. But while making the publicity rounds, Shane Black talked about another duo that he had a hand in creating back in 1987 in the action thriller Lethal Weapon.
More specifically, Shane Black revealed what his plan would have been for Lethal Weapon 5, and thankfully, it would not have been about Riggs (Mel Gibson) and Murtaugh (Danny Glover) passing the torch to the next generation of cops who would eventually become too old for shit shit.. Find out more about the Lethal Weapon 5 story after the jump.
The Playlist picked out some of the finer points of Shane Black's recent chat on Nerdist's The Writer's Panel podcast, and that includes details on a 62-page treatment for Lethal Weapon 5, the sequel we'll probably never see. Here's what he had to say:
"I wrote a 62-page treatment with my friend Chuck for "Lethal Weapon 5" that would've been, I think, a very good movie. It was interesting. It was essentially an older Riggs and Murtagh in New York City during the worst blizzard in east coast history, fighting a team of expert Blackwater guys from Afghanistan that's smuggling antiquities. And we had a young character that actually counter-pointed them. But I didn't wanna do what people do when they're trying to transition which is, they sorta put the two older guys in the movie, but really it's about their son! And he's gonna take over and we're gonna do a spinoff. Fuck that, if they're gonna be in the movie, they're gonna be in the movie — I don't care how old they are."
With a blizzard in store for Lethal Weapon 5, we'd likely get another Christmas-set movie from Shane Black, one of his trademarks. On the surface, this seems like exactly what you would hope for from a Lethal Weapon sequel, especially with Riggs and Murtaugh staying the focus instead of their kids becoming the focus on the movie. Lethal Weapon 4 got way too far off the rails, especially with how much silliness came from Chris Rock and Joe Pesci. Even though those two brought laughs, it just felt over the top. It's a shame we'll never get to see Shane Black polish off the franchise and make it great again.
Do you still want to see Lethal Weapon 5 happen?