Episode 8 Bits: Oscar Isaac On The "Dark Second Chapter,' A Major Action Scene, And The Return Of A Jedi Master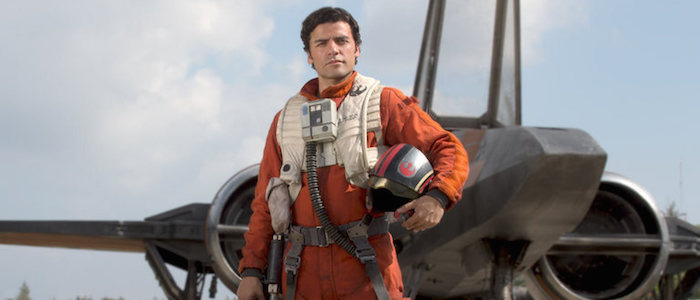 In today's edition of Episode 8 Bits:
Oscar Isaac talks about the future of Poe Dameron.
The Star Wars: Episode 8 production continues to leap all around Ireland.
Drone footage reveals a new look at the Millennium Falcon.
Yoda may return for Episode 8.
A spoiler-y description of a major action scene.
Oscar Isaac was the subject of a recent Rolling Stone profile and while the timing is all about X-Men: Apocalypse, some of the most fun and interesting moments revolve around his work as Poe Dameron in the Star Wars saga. For example, the article confirms what we've heard before – portions of the opening attack on the village on Jakku were reshot to be less grim, which meant allowing Isaac to break out a bunch of wisecracks:
All of the funny lines – including one about Poe being unable to hear Adam Driver's Kylo Ren through his helmet, and the "who talks first" exchange – were added in reshoots, and Isaac improvised some of them. He's always pushing to complicate and deepen Poe, who started as little more than a charming archetype. "We're making s*** up as we go," he says.
The "making s*** up as we go" thing isn't entirely inaccurate. After all, Poe was originally scripted to die when the TIE Fighter he steals with Finn crash lands on Jakku. There's still not a lot of his character down on the page, but we still like him because Isaac is infinitely charming. There's still plenty of room to define him moving forward. Isaac also noted that Episode 8 will follow the pattern established by the original trilogy and will be the "dark second chapter":
In the new film, there's a lot more to do. What happens now is the heroes get tested. All three of them [Dameron, Daisy Ridley's Rey and John Boyega's Finn] get tested immensely...BB-8 gets tested too! Everybody gets tested! It's the dark second chapter, but not really dark.
And while it should have been obvious, here is Isaac essentially confirming that Poe Dameron will be around for Star Wars: Episode 9:
It's the first time in my life when things have been mapped out for quite some time. I'm basically Star War-ring until 2020.
Hey, there are far worse things your could be doing for the next four years.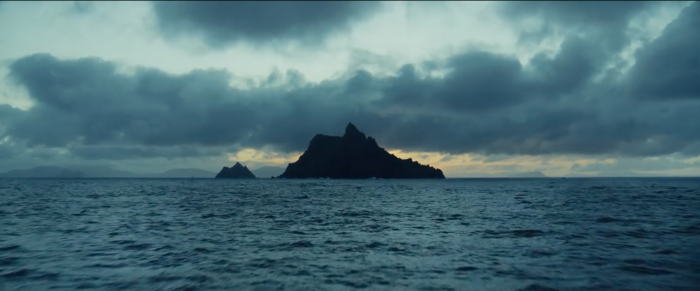 While Oscar Isaac chats it up in interviews, a few of his Episode 8 cast mates are keeping busy. Filming in Ireland has continued at a gallop and Radio Kerry reports that the production has officially moved into Ceann Sibéal, where the "beehive huts" were constructed to recreate Luke's island home. Here are the details:
A flurry of activity has erupted in West Kerry ahead of the six-day Star Wars shoot in Ceann Sibéal. Filming in the Corca Dhuibhne Gaeltacht began in earnest today with stunts scenes shot at Ceann Sibéal.
Production is also reportedly underway on scenes featuring Daisy Ridley, who plays Rey in the franchise. The shoot at Ceann Sibéal west of Dingle, where beehive huts have been constructed, is expected to last six days.
A no-fly-zone is in effect in the area until May 26th.
Filming at Ceann Sibéal will reportedly take place later in the day during the evenings and it is understood some Dingle restaurants have been approached to keep their kitchens open after 10pm. Dún Mór in Dún Chaoin, near Commenoule Strand and which was also featured in Ryan's Daughter, is said to form the final part of the shoot.
Lead actor Mark Hamill, Daisy Ridley, Rian Johnson and Adam Driver flew into Ireland last week to shoot scenes at Malin Head in Donegal and Brow Head in Cork.
Despite all of the security Disney was supposedly implementing to protect the sets from aerial photography, the drone footage continues to come in. Today, we have our best look yet at the Millennium Falcon parked on a Surrey set.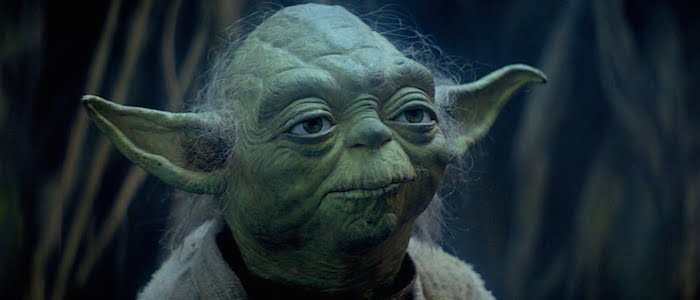 Here is where a few rumors all come together and seeming get tied up with a pretty little bow. We've previously heard that some of the Irish sets for Episode 8 were built to accommodate puppets. We also know that the legendary Frank Oz recently flew out to London, presumably to consult on the film in some capacity. Now, Indie Revolver reports that yes, all of this does suggest exactly what it sounds like it suggests: Yoda is back, albeit in ghost form. Now, this is a rumor until we see or hear something concrete, but it certainly makes sense. If Luke was going to live in isolation and exile for all of these years, surely he would occasionally chat with his former mentor, especially since we know his former mentor can appear as a Force Ghost. The report says that Yoda will be a puppet this time around (welcome news after his CGI makeover in the prequels) and that Oz will once again voice the character, but will not operate the puppet.
The spectacular cliffs of #loophead #Clare providing the backdrop to further filming for #StarWars for next 3 days pic.twitter.com/FwFbCFLoF3

— Tomás O Mainnín (@omainnintomas) May 17, 2016


Episode 8 still seems to be taking advantage of just about every gorgeous location in Ireland. Go ahead and add the cliffs of Loop Head to the list.
#StarWars crew having to bring tankers of water to Loop Head, Co. Clare, as they're shooting a night scene in rain & none forecast! #ironic

— Eoin Neylon (@eoinneylon) May 17, 2016
While Ireland is not a particularly dry country, it seems that the production found itself in need a fake rainstorm for at least one scene.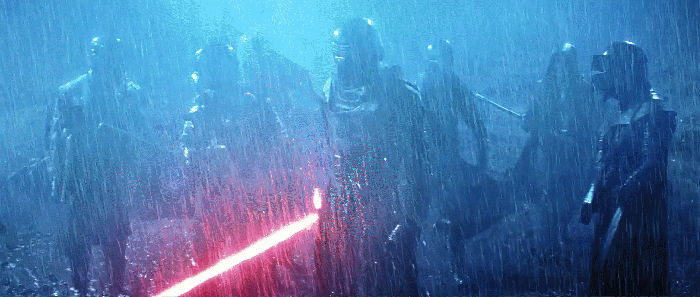 Making Star Wars has published a very interesting report utilizing details from someone who witnessed the filming of a key Episode 8 sequence at the Malin Head set. If true, and Making Star Wars has a good track record with this stuff, it's a fairly straightforward description of a major action sequence. And yes, that means big, big spoilers may lurk below. If you want to know nothing, just keep on scrolling past this bit.
Still with me? It seems that a group of men resembling medieval knights were seen on set, which certainly sounds like the Knights of Ren, Kylo Ren's elite team of compatriots briefly glimpsed during that flashback in The Force Awakens. It also seems that Kylo Ren leads them into battle against Luke Skywalker and Rey, possibly at the ruins of the Jedi temple mentioned in the previous film. And there is reportedly a lot of wire work involved. Oh, and Mark Hamill was seen wielding a green rod, just in case you were wondering if he was still using his Return of the Jedi lightsaber. Here are the details, laid out by Making Star Wars:
Luke Skywalker and Rey are on Ahch-To just before nightfall as the sun sets in the background and it starts to rain.
Rey's hair is pulled back. She doesn't have the vest from VII on.
Luke and Rey are wearing the costumes we described before.
Kylo Ren and the Knights of Ren turn up along the coast.
Kylo Ren continues advancing towards the heroes with the Knights of Ren.
Kylo does not wear the mask here.
Kylo has the same cross guard saber as he did in VII.
Kylo's costume looked the same as in VII.
Rey and Kylo Ren duel one-on-one and end up fighting along the cliff face overlooking the nighttime water.
Kylo wants his revenge after Rey disgraced him.
The Knights of Ren go for Luke Skywalker while Rey is left for Kylo.
Luke Skywalker engages the Knights on the beach while Kylo attempts to kill Rey.
The first black knight has an axe and moves towards the Luke but is Force pushed away to his death after being thrown through the air.
After Luke dispatches the first Knight he ignites his green lightsaber.
Luke moves through each Knight one-by-one.
Rey and Kylo's battle moves up to the side of a cliff.
Suddenly Rey is nowhere to be seen. She's taken out of the battle; she's either wounded or appears to go over the side of the cliff.
Luke Skywalker casually walks towards Kylo to finish him but Kylo retreats when he sees his crew defeated.
Luke Skywalker is a badass Jedi and he'll destroy your squad.
It certainly sounds like a cool sequence and hopefully this isn't someone just blowing a bunch of hot air out way. There is nothing that please me more than watching an old Luke Skywalker decimate an entire squad of enemies.