'Sausage Party' Trailer: Not As Raunchy, But Food Still Gets Murdered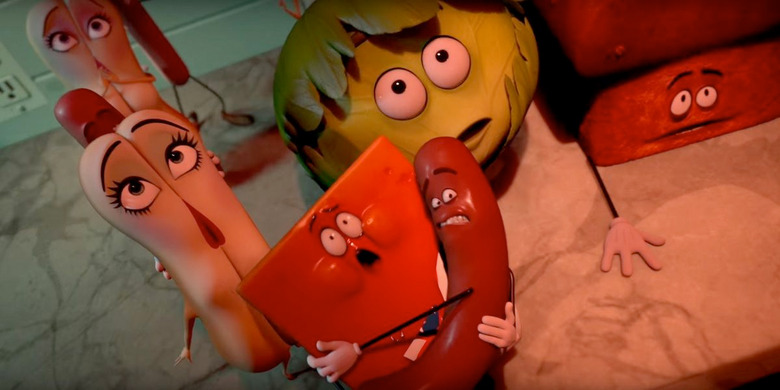 In addition to bringing some comedy to summer this weekend with Neighbors 2: Sorority Rising, we'll get more of Seth Rogen to close out the summer later this year with his raunchy animated adventure Sausage Party. The film is basically an R-rated Pixar movie following a group of friends who just so happen to be foods in a grocery store. Their lot in life is to be chosen by people and taken home in a glorious manner. But then they learn what people really do with food when they get it home, and that's when all hell breaks loose.
A new Sausage Party trailer has arrived, and it's basically the green band version of the red band trailer that was released a little while back. However, there are some new laughs to be had, especially at the end. Watch the new Sausage Party trailer after the jump.
The moment of realization when the woman eats those baby carrots is solid gold comedy. Jonah Hill's screams crack me up every time, and while it's much more effective in the red band trailer, it still works here. However, this time I noticed how weird the shading was on the woman's face when she goes to eat the baby carrots. We just saw her face not two seconds previously, and then it's blacked out in a very sloppy way. This seems to be an attempt to make her more menacing, but it looks very poorly done. Hopefully they fix that before the movie arrives.
Anyway, this looks like another comedy hit for Rogen, and the premise is hilarious. Our own Jacob Hall caught the work-in-progress screening of Sausage Party at SXSW this past spring, and he said:
Sausage Party is offensive and filthy and easily one of the dirtiest movies ever made. Its final twenty minutes, which were mostly unfinished in this screening, may very well be the stuff of legend.
Sounds like my kind of movie. Sausage Party arrives on August 12.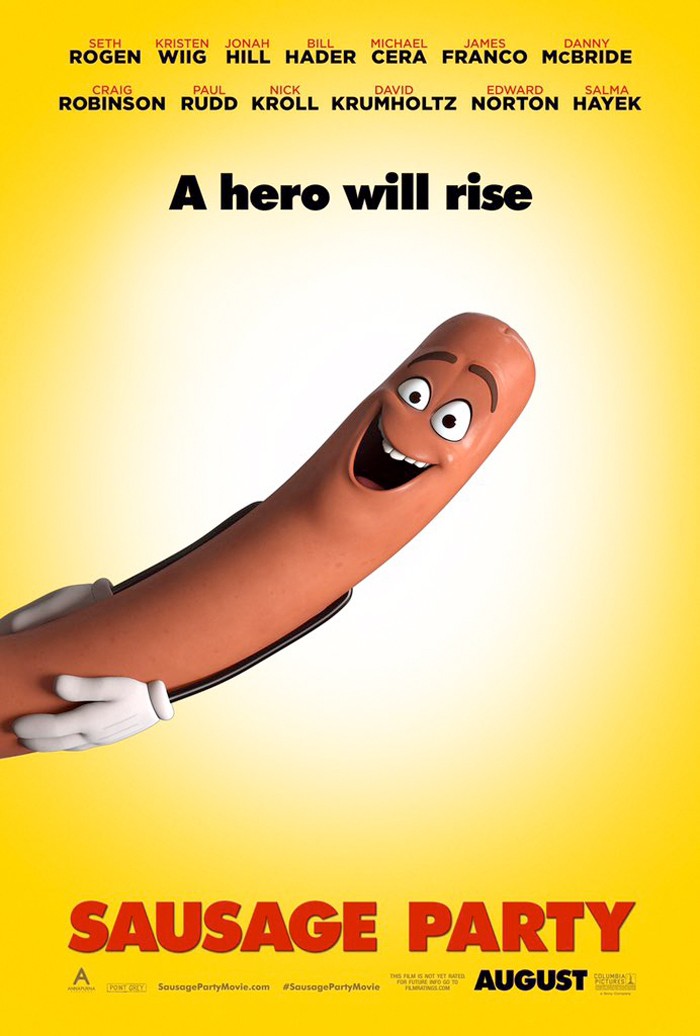 Life is good for all the food items that occupy the shelves at the local supermarket. Frank (Seth Rogen) the sausage, Brenda (Kristen Wiig) the hot dog bun, Teresa Taco (Salma Hayek) and Sammy Bagel Jr. (Edward Norton) can't wait to go home with a happy customer. Soon, their world comes crashing down as poor Frank learns the horrifying truth that he will eventually become a meal. After warning his pals about their similar fate, the panicked perishables devise a plan to escape from their human enemies.