'The Purge: Election Year' Trailer: Keep America Great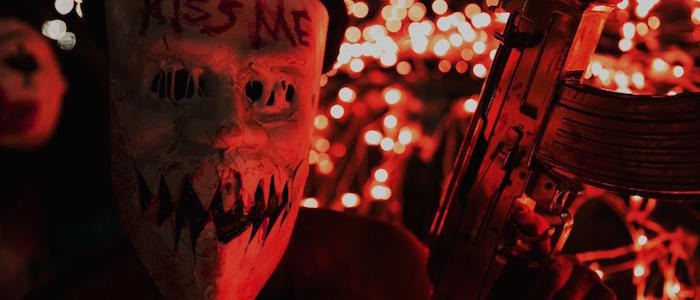 The Purge: Election Year was in development long before anyone involved knew it would be released in the middle of the most contentious, ludicrous, and genuinely embarrassing election season in American history. And while the average American (and many other citizens of the world) squirm and groan with every new development arising from both sides of the political aisle, the third film in writer/director James DeMonaco's horror series has found itself in a unique position. Suddenly, the film's vision of a deranged future America where murder is legalized for one night every year feels kind of inevitable. After all, the world does seem to be crumbling a little bit every single day.
And you bet your ass The Purge: Election Year is well-aware of this environment. The tagline on display in the new trailer is "Keep America Great." These movies know exactly what they're doing.
The Purge 2: Anarchy saw the series take a giant leap forward in scope and ambition, taking the basic concept of the first film and injecting it with angry politics and biting satire. The third film looks to pick up that torch and sprint with it. The gnarly imagery and insane costumes are back, but the film is wearing its politics on its sleeve in a loud and proud fashion. The only thing missing is a vicious killer wearing a Donald Trump mask.
However, the most important decision the films seems to have made right off the bat is the inclusion of Frank Grillo's Sergeant, the lead character from the second film and the perfect protagonist for a movie like this. The first film was a fairly standard home invasion thriller that played with the standard beats despite its science fiction dystopia setting. It was just a movie about masked killers hunting and killing innocent people, albeit with a few twists. The sequel turned the whole premise on its head by allowing the lead character to be a former solider, the kind of guy who doesn't bat an eye at the chaos around him and is more than capable of defending himself against a bunch of lunatics. Grillo has that '70s movie star thing going on. He's the perfect "tough guy whose vulnerable edges show just often enough." He's a fantastic anchor for these movies and the ideal figure through which to view this insane world.
The Purge: Election Year is set to open on July 1, 2016. Happy Fourth of July weekend, everyone.