'Preacher' Trailer Parody: Seth Rogen Plays Every Role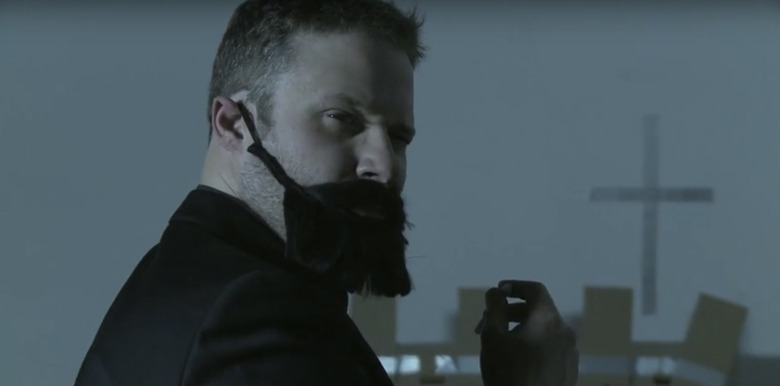 This weekend is a huge one for Seth Rogen. Not only does his comedy sequel Neighbors 2: Sorority Rising hit theaters starting with early shows at 7pm on Thursday night (watch the trailer right here), but his TV series adaptation of the comic book Preacher is also premiering on AMC on Sunday.
Rogen is easily one of the hardest working guys in Hollywood, but when it comes to his work at AMC for Preacher, he wasn't satisfied with only being the executive producer and director of the show. At one point, Rogen decided he also wanted to star in the show. But he didn't just want the lead role that ended up going to Dominic Cooper, he wanted to play every single role.
Watch the Preacher trailer parody to see how that turned out.
It's a shame that Seth Rogen didn't have the time to shoot the entirety of the pilot like this. That would truly be something special to see. But at least we got to see this little gem before the real thing arrives this weekend. You can watch the most recent trailer and some informative featurettes right here, or the opening five minutes from the show over here.
Based on Garth Ennis and Steve Dillon's popular '90's comic book franchise of the same name, "Preacher" is a supernatural, twisted and darkly comedic drama that follows a West Texas preacher named Jesse Custer, who is inhabited by a mysterious entity that causes him to develop a highly unusual power. Jesse, his badass ex-girlfriend Tulip and an Irish vagabond named Cassidy come together and when they do, they are thrust into a crazy world populated by a cast of characters from Heaven, Hell and everywhere in between.
Preacher debuts Sunday, May 22 at 10pm ET/PT with a 90-minute premiere episode. New episodes resume Sunday, June 5 at its regular time of 9pm ET/PT.