'Popstar' Trailer: Andy Samberg Learns How Seal Got Those Scars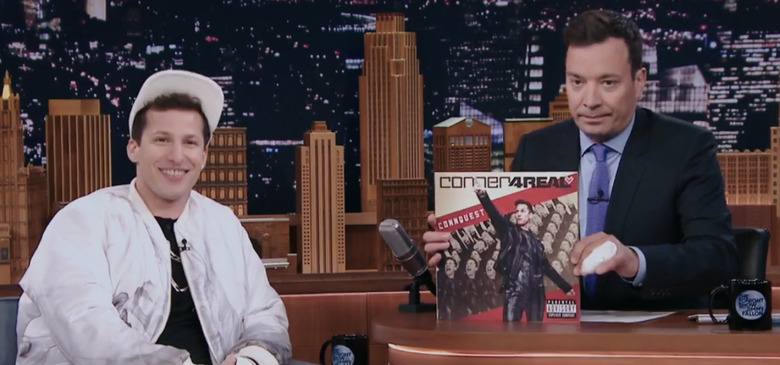 After delivering some of the best recorded content Saturday Night Live has ever had, The Lonely Island (Andy Samberg, Akiva Shaffer and Jorma Taccone) have collaborated on a feature film that feels like it could have been inspired by one of their SNL Digital Shorts.
This summer brings the new comedy Popstar: Never Stop Never Stopping, a mockumentary following rapper Connor4Real (Samberg) as he releases his new album and goes on tour. A new Popstar trailer shows more of Connor's stupid antics and the entourage who keeps his ego intact. Have you ever wanted to see a wedding with wolves and Seal? This is your movie.
Watch the Popstar trailer after the jump.
Even though this isn't quite as laugh-out-loud funny as the red band trailer, it's still a great impression of the comedy that's essentially this generation's This Is Spinal Tap. Chock full of cameos from recording artists, music producers and plenty of celebrity cameos (some playing themselves, others playing characters), this movie has an authenticity to it that makes the comedy land perfectly.
Akiva Shaffer, who co-directs with Jorma Taccone, told ComingSoon on a set visit that he used the documentaries about Katy Perry and One Direction as inspiration for the movie. The Justin Bieber documentary clearly had an influence too, since he's probably the pop star that Connor4Real is most closely influenced by. But the songs themselves are Lonely Island tracks through and through. This soundtrack is a riot by itself, but the concert sequences that go along with them make them even better. You can listen to two of the tracks featured in this trailer right here.
Between this and Neighbors 2: Sorority Rising, it sounds like Universal has the two comedies of the summer.
Popstar: Never Stop Never Stopping is headlined by musical digital-shorts superstars Andy Samberg, Akiva Schaffer and Jorma Taccone, collectively known as The Lonely Island.  The comedy goes behind the scenes as singer/rapper Conner4Real (Samberg) faces a crisis of popularity after his sophomore album flops, leaving his fans, sycophants and rivals all wondering what to do when he's no longer the dopest star of all.
The latest comedy from blockbuster producer Judd Apatow (Trainwreck, Superbad, Knocked Up) co-stars Sarah Silverman, Tim Meadows and Maya Rudolph and many of the biggest names in comedy and music in cameo performances.  Co-directed by Schaffer and Taccone and written by The Lonely Island trio, Popstar is also produced by Rodney Rothman (producer of Get Him to the Greek, Forgetting Sarah Marshall; co-writer of 22 Jump Street), as well as Samberg, Schaffer and Taccone.
Popstar: Never Stop Never Stopping arrives on June 3.