VOTD: Margot Robbie Recreates The 'American Psycho' Morning Routine For Vogue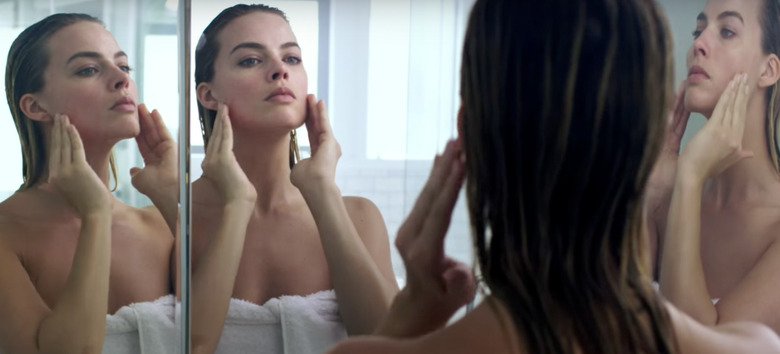 Late this summer we'll see Margot Robbie in unhinged villain mode in the DC Comics movie Suicide Squad. The breakout actress from The Wolf of Wall Street is playing the saucy Harley Quinn, and fans are pumped to see the iconic character on the big screen for the first time. But if you can't wait to see Margot Robbie be a bit crazy, you may want to watch this video where she recreates Patrick Bateman's morning routine from the cult favorite American Psycho.
Watch the Margot Robbie American Psycho spoof video after the jump.
Here's the little video featuring Margot Robbie, straight from Vogue:
Funnily enough, the video features a fake script for a movie called Harley Quinn v Harley Davidson, written by Akiva Goldsman. Thankfully, that's not a real movie, but the timing of that joke couldn't be more perfect since that Harley Quinn spin-off was just announced earlier this week. However, it's interesting that Goldsman is the writer on the script, because he produced I Am Legend, which has a little Batman v Superman easter egg due to the fact that he once worked on a script for the movie nearly 15 years ago. Goldsman also unfortunately wrote Batman & Robin, but we try our best to forget about that.
This is an extremely well-done parody, directed by Ariel Schulman and Henry Joost, the filmmaking duo behind Catfish and Paranormal Activity 3 and Paranormal Activity 4. It's essentially a shot-for-shot recreation of the sequence Christian Bale originally shot, and if you need a refresher of that sequence, here it is:
Suicide Squad arrives on August 5.