'24: Legacy' And 'Prison Break' Revival Trailers: What Was Old And Canceled Is New Again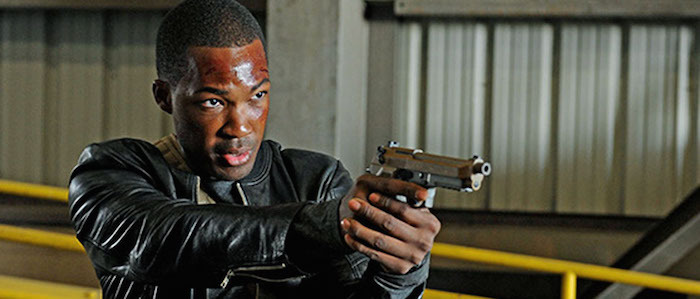 Fox is looking to the past for its 2017 slate, reviving two of the shows that helped shape the network's identity during the early and mid-'00s. And yet, both are coming back in very different forms. In one corner, you have Prison Break, returning as a special event series that will act as a sequel to the series finale and feature characters fans already know and love. In the other, you have 24: Legacy, which borrows its parent show's basic format while bringing an entirely new cast into the fray.
Prison Break has always been a silly show, propelling its characters and the audience through preposterous events while wearing a completely straight face. The new series appears to follow suit. Once again, the show has found a way to imprison a character and once again, its up to the rest of the cast to get him out. This time, the bulk of the action takes place in Morocco, where the supposedly dead Michael Scofield is serving time. Naturally, his brother Lincoln Burrows (whom Michael sprang from death row back in season one) sets out to rescue him.
Although the original series was often inconsistent, it was always at its most fun when it found an excuse to lock everyone up in a fresh new prison presenting fresh new challenges. This revival looks to work from that formula. Here's the official synopsis:
In the thrilling new event series PRISON BREAK, original series stars Wentworth Miller, Dominic Purcell, Sarah Wayne Callies, Amaury Nolasco, Robert Knepper, Rockmond Dunbar and Paul Adelstein are reunited for an all-new adventure spanning the globe and featuring the signature thrills and cliffhangers that were hallmarks of the original series when it aired on FOX from 2005-2009. The original action drama centered on MICHAEL SCOFIELD (Miller, "The Loft"), a young man determined to save his convicted brother, LINCOLN BURROWS (Purcell, "DC's Legends of Tomorrow"), from death row by hatching an elaborate plan to escape from prison. In the all-new event series, filmed on location in Morocco, clues surface that suggest a previously thought-to-be-dead Michael may be alive. Lincoln and SARA (Sarah Wayne Callies, "Colony," "The Walking Dead"), Michael's wife until he was assumed dead, reunite to engineer the series' biggest escape ever, as three of Fox River State Penitentiary's most notorious escapees, SUCRE (Nolasco, "Telenovela"), T-BAG (Knepper, "Heroes") and C-NOTE (Dunbar, "The Mentalist"), are pulled back into the action. "Prison Break" was an immediate critical and ratings hit when it premiered on FOX in the fall of 2005, garnering Golden Globe Award nominations for Best Television Series – Drama and Best Performance by an Actor in a Television Series – Drama (Miller). The original producing team, including series creator Paul T. Scheuring, Neal Moritz, Marty Adelstein and Dawn Olmstead, will return to executive-produce the new series, with Scheuring serving as showrunner/writer.
And that brings us to 24: Legacy, which finds Straight Outta Compton star Corey Hawkins stepping in for Kiefer Sutherland's Jack Bauer (who was last seen being taken to a Russian prison in 24: Live Another Day's incredibly grim finale). Hawkins plays an Army Ranger whose involvement in the assassination of a terrorist leader paints a target on his back while also placing him in the best possible position to foil a new plot against America. Yep, that sounds a lot like 24.
24: Legacy will follow the original show's real-time format, although it will only run for twelve episodes instead of a full twenty-four. Action fans who watched the original series for its preposterous violence and melodramatic twists are probably already on board, but it remains to be seen if the people who actually took the show seriously (i.e., your political looney tune of an uncle) will return now that a black man is the one defending America. 24 has been starting arguments at the family dinner table for over a decade, so why stop now?
Here's the official synopsis:
Six months ago in Yemen, an elite squad of U.S. Army Rangers, led by Sergeant ERIC CARTER (Corey Hawkins, "Straight Outta Compton"), killed terrorist leader Sheik Ibrahim Bin-Khalid. In the aftermath, Bin-Khalid's followers declared a fatwah against Carter, his squad and their families, forcing them into federal witness protection. But a recent attempt on Carter's own life makes it clear to him that his team is now exposed. To thwart further attacks, Carter enlists REBECCA INGRAM (Miranda Otto, "Homeland"), who quarterbacked the raid that killed Bin-Khalid. She's a brilliant and ambitious intelligence officer who has stepped down from her post as National Director of CTU to support her husband, SENATOR JOHN DONOVAN (Emmy and Golden Globe Award winner Jimmy Smits, "NYPD Blue," "The West Wing"), in his campaign for President of the United States. Decades of sleepless nights and missed anniversaries landed her at the top. With the White House within their grasp, can she truly embrace a new role as First Lady? Or will her love of the action draw her back in? Together, in this fast-paced thrill ride, Carter and Ingram uncover a sophisticated terrorist network that will force them to ask: "Who can we trust?" As they battle Bin-Khalid's devotees, they are forced to confront their own identities, families and pasts.
Both 24: Legacy and Prison Break are set to premiere early next year.
If you want to see more trailers for the new shows coming to Fox this fall, trailers for Phil Lord & Chris Miller's comedies Making History and Son of Zorn can be found right here. Or if you're into movies coming to TV, check out the Lethal Weapon, The Exorcist and Rocky Horror Picture Show right here.