Kevin Feige Explains Why Natalie Portman Won't Be In 'Thor: Ragnarok'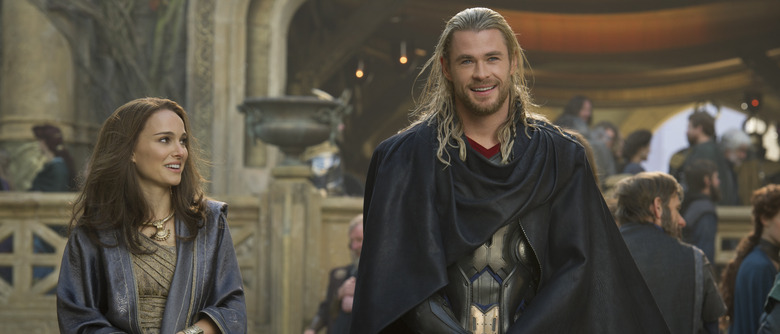 Thor: Ragnarok is building up a cast to die for, with Chris Hemsworth, Tom Hiddleston, Mark Ruffalo, Tessa Thompson, and Cate Blanchett all on board. But one Marvel star who'll be sitting out this trip is Natalie Portman. After playing Jane Foster in Thor and Thor: The Dark World, Portman will not reprise her role for Thor: Ragnarok, as confirmed by Marvel Studios president Kevin Feige. Find out why after the jump. 
Feige addressed the Natalie Portman Thor Ragnarok absence to the Empire podcast. According to him, Portman is out of Thor: Ragnarok for "many reasons." He continued, "Many of which are in the film so you will see that. There are only a couple of scenes on Earth in this movie; 80 to 90 percent takes place in the cosmos." That may also explain why Stellan Skarsgård's Erik Selvig isn't expected to return either.
As Jane Foster, Portman has been Thor's main squeeze and the female lead in his solo films, so her exclusion is a bit surprising. But it's not as if this movie is wanting for female characters or romantic possibilities. Earlier films have hinted at a possible connection between Thor and his BFF Lady Sif (played by Jaimie Alexander, who is returning). In addition, early reports about Thompson's casting suggested her character (whose name has not officially been revealed) could be the next love interest to the god of thunder.
Much as I like Portman as an actress, I can't say I'll miss her Jane Foster all that much. Jane's relationship with Thor has always felt more circumstantial than genuinely romantic, and Jane herself feels peripheral to the Marvel Cinematic Universe. Unlike other secondary characters like Loki, Pepper Potts, or Peggy Carter, she's never crossed over into any of the other Marvel sub-franchises. Besides, it's not like Portman is wanting for work outside the Marvel franchise — she's currently shooting Annihilation, the next film by Alex Garland.
As for what Thor will be up to without Jane, we've previously heard that Ragnarok will be "a buddy picture" for Thor and Hulk — so Bruce Banner should cover the "Midgardian lost in Asgard" angle we'd probably have gotten with Jane Foster. Taika Waititi is directing Thor: Ragnarok for release on November 3, 2017.