WTF: 'Iron Man 3' Nixed A Female Villain Because Her Action Figure Wouldn't Have Sold Well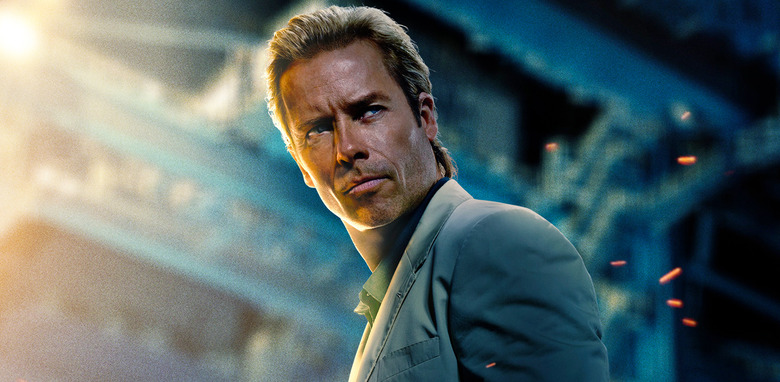 There have been some disappointing decisions on the merchandise side of things from Disney and Marvel Studios, specifically with regards to their treatment of female characters. Black Widow, once the only female member of the Avengers, had a rather disappointing shortage of toys, so much that Avengers star Mark Ruffalo lamented that his daughters and nieces couldn't find many at the store. In fact, Black Widow was even left out of an action figure playset inspired by a key scene for the character in The Avengers: Age of Ultron. Now some more upsetting details from behind the Marvel machine have been revealed.
Director Shane Black has been out promoting The Nice Guys (in theaters this weekend), and a recent interview saw part of the discussion steer towards Iron Man 3 and some of the difficulties he had on the production. One surprising revelation that came from the discussion was that the primary villain in the movie, played by Guy Pearce, was originally slated to be a female character. But Marvel forced a change in the character's gender because they believed a female villain action figure wouldn't sell as well. Wow.
Find out more about the axed Iron Man 3 female villain after the jump.
This conversation arose in an interview with Uproxx while Shane Black talked about some of the challenges of making Iron Man 3. One of the problems they had came from having to make changes to the script. Black explains:
We replaced a lot of things. The plot went this way and that way. Stéphanie Szostak's character was bigger at one point and we reduced it. Rebecca Hall's character was bigger at one point and we reduced it.
Rebecca Hall played the former colleague of Tony Stark's who ended up being involved with Aldrich Killian while Stéphanie Szostak played one of the extraneous bad guys who had the Extremis virus running through her body. And when Black elaborates on the matter, he explains:
All I'll say is this, on the record: There was an early draft of Iron Man 3 where we had an inkling of a problem. Which is that we had a female character who was the villain in the draft. We had finished the script and we were given a no-holds-barred memo saying that cannot stand and we've changed our minds because, after consulting, we've decided that toy won't sell as well if it's a female.
In the earlier draft, the woman was essentially Killian – and they didn't want a female Killian, they wanted a male Killian. I liked the idea, like Remington Steele, you think it's the man but at the end, the woman has been running the whole show. They just said, 'no way.'
So it sounds like Rebecca Hall maybe could have been the real villain behind Aldrich Killian instead of what we saw on the big screen. Changes like this happen during rewrites all the time, but hearing that this decision was made simply because it would impact toy sales is shocking. This is the ugly side of having a franchise that pulls in millions of dollars in revenue from merchandise. Black even explains that this wasn't a decision that Kevin Feige made, but rather Marvel corporate. But he also pointed out that this isn't a problem anymore.
That's our hint that Ike Perlmutter likely had a hand in the shortsighted decision, and maybe the problem has been solved since then, now that Kevin Feige only has to answer to Disney chief Alan Horn. Still, Perlmutter remains the CEO of Marvel Entertainment, and if certain story decisions impact their bottom line due to toy sales or other decisions, this could still be a problem, no matter how ridiculous that may sound.
Perhaps the most frustrating thing about this decision is that you'd be hard pressed to find an Aldrich Killian action figure out there. I spent some time on Google seeing just how many figures of Guy Pearce were out there, and the only one I could find was a Minimates figure from Diamond Select. There are some Mandarin toys out there, but the real meat of Iron Man 3 action figures comes from the different suits that Tony Stark had in that movie. So would it really have been a problem to have a female villain in Iron Man 3?
Obviously Disney is a successful corporation for a reason, and maybe they have plenty of data that shows female action figures don't sell as well as the male ones. But they really seem to be shortchanging their female fans, and even some of their male ones, by not providing as much merchandise based on their female characters. Whether it's Black Widow, Gamora or Scarlet Witch, these female heroes (and villains) need to start getting their due in the merchandise department.