'Trainspotting' Sequel 'T2' Announces Start Of Shooting With First Teaser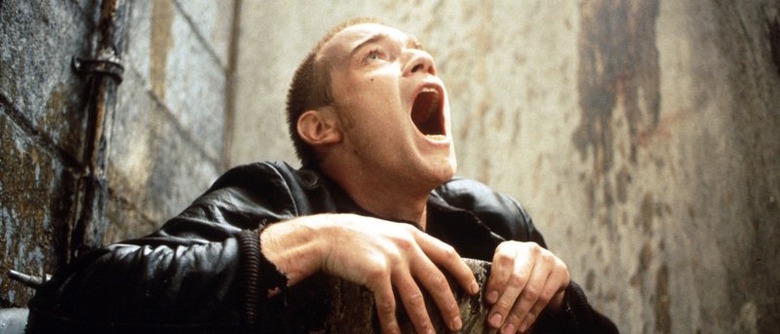 After many, many years of chatter, Trainspotting 2 is finally ready to hit the ground running. How do we know? Because Sony Pictures Releasing UK has just released the very first teaser to announce that Trainspotting 2 begins shooting today. Ewen McGregor, Jonny Lee Miller, Ewen Bremner, and Robert Carlyle are all back, as Renton, Sick Boy, Spud, and Begbie, respectively, as is director Danny Boyle. Watch the first Trainspotting 2 teaser — which reveals that the sequel is going by the title T2 — below.
There's no actual new footage in the first Trainspotting 2 teaser, which shouldn't come as a huge surprise considering there probably isn't a whole lot of new footage to show right now. Instead, we get an energetic montage of scenes from the original Trainspotting, while a voiceover suggests that our favorite junkies will...
Choose life. Choose hope. Choose faith. Choose meeting each new dawn as a chance to bring good into the world. Choose friendship. Love. Happiness. Clean living and positive thinking.
Yeah, right.
The first Trainspotting was scripted by John Hodge, based on the book by Irvine Welsh. Hodge has returned to pen the sequel. The cast and crew have tried not to give away too much about the new film, but have made some big promises about how great it's going to be. "It's one of the best scripts I've fucking read. I mean, ever," Carlyle teased in December. "People who came to see the original film when they were in their early twenties are very different people now. And the way John Hodge has put this thing down, obviously with the help of Danny Boyle, is to make it about how the characters' lives have moved on... or have they?"
As the teaser reveals, T2 is out January 27, 2017 in the U.K. No U.S. release date has been announced yet, but we expect it'll open here not too long afterward.