'Teenage Mutant Ninja Turtles 2' TV Spots Show Krang In The Flesh With A Big Weapon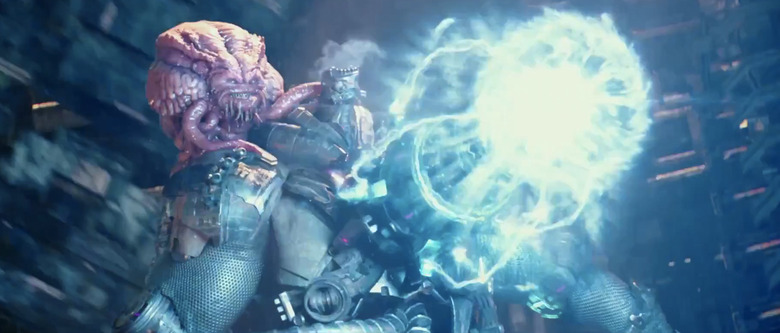 This summer is getting a big dose of turtle power with the forthcoming sequel Teenage Mutant Ninja Turtles: Out of the Shadows. Embracing the more cartoonish elements of the comic book favorite characters who were launched into massive popularity in the 1990s, this sequel is bringing a lot of characters from TMNT mythology to the big screen that we've never seen before. In addition to the return of Shredder, there's Rocksteady, Bebop, Baxter Stockman and even Krang (voiced by Fred Armisen) and his Technodrome.
Some new Teenage Mutant Ninja Turtles 2 TV spots have just arrived online this week, and one quick one offers a new glimpse at Krang outside of his cybernetic suit that was shown off in the Super Bowl spot earlier this year. The rest of them have a bunch of footage from the previous trailers with some snippets of unseen action featuring our heroes in a half-shell.
Here's the new Teenage Mutant Ninja Turtles: Out of the Shadows TV spots from YouTube:
The above TV spot also has a quick shot of Krang and his body suit battling the turtles in the city, but it's not entirely clear what he's doing. His fleshy body can be seen outside of the suit while one of the metallic limbs is grabbing onto either Donatello or Leondardo. He also appears to have the glowing purple ooze in his possession, and it appears to be powering the suit somehow.
Honestly, the inclusion of these new characters is what has me interested in seeing the sequel. It doesn't look like it'll be very good, but having the film franchise embrace the Dimension X side of the comic book mythology sounds like it could be ridiculously fun. But I'm not counting on anything spectacular by any means.
Anyway, if you're interested in seeing more from Teenage Mutant Ninja Turtles: Out of the Shadows (besides the most recent trailer), here's a bunch more TV spots available online as well:
Michelangelo, Donatello, Leonardo, and Raphael return to theaters this summer to battle bigger, badder villains, alongside April O'Neil (Megan Fox), Vern Fenwick (Will Arnett), and a newcomer: the hockey-masked vigilante Casey Jones (Stephen Amell). After supervillain Shredder escapes custody, he joins forces with mad scientist Baxter Stockman (Tyler Perry) and two dimwitted henchmen, Bebop (Gary Anthony Williams) and Rocksteady (WWE Superstar Stephen "Sheamus" Farrelly), to unleash a diabolical plan to take over the world. As the Turtles prepare to take on Shredder and his new crew, they find themselves facing an even greater evil with similar intentions: the notorious Krang.
Teenage Mutant Ninja Turtles: Out of the Shadows arrives in theaters June 3.