'The Conjuring 2' Featurette: The Real Horror Victims Discuss The Strange Happenings In Enfield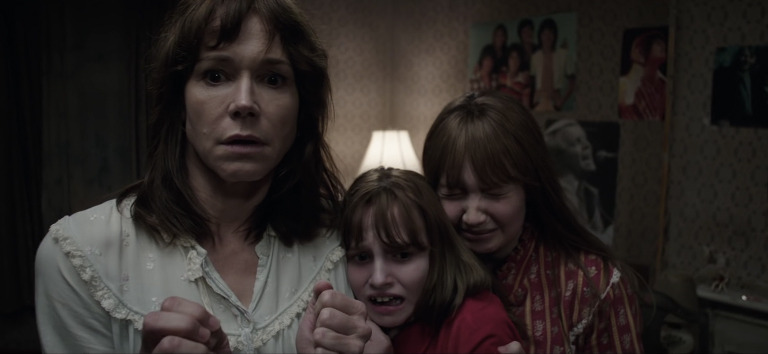 This summer James Wan is bringing plenty of horror to theaters. Lights Out with Teresa Palmer arrives in July to make sure you're scared of the dark all over again. But before that, the filmmaker is behind the camera again for The Conjuring 2, the sequel to his successful horror flick about the real paranormal investigations of Ed and Lorraine Warren.
This time the terror comes from across the pond with the events known as the "strange happenings in Enfield," and a new featurette focuses on the victims of the real haunting that inspires the film. In addition, the real Lorraine Warren talks about their experience with this particular case. Watch The Conjuring 2 featurette after the jump.
Here's The Conjuring 2 featurette from Warner Bros. Pictures:
The Conjuring 2 trailers we've seen have featured the recordings of the deep, raspy voice of the possessed little girl at the center of this investigation, but that's nothing new in movies like this. However, what's truly creepy and unsettling is hearing the real recordings from this particular case. It certainly adds some credence to these movies being based on a true story, even if plenty is exaggerated for the sake of entertainment. Plus, the talking heads really make me want to see a documentary on the matter as opposed to just a dramatic reenactment by way of Hollywood.
In addition to the return of Patrick Wilson and Vera Farmiga as Ed and Lorraine Warren, the case also includes Frances O'Connor (The Missing) as the single mom, with Madison Wolfe (Zoo) and newcomers Lauren Esposito, Patrick McAuley and Benjamin Haigh as her children; Maria Doyle Kennedy (Orphan Black); Simon Delaney (Roy); Franka Potente (The Bridge); and Simon McBurney (Mission Impossible: Rogue Nation).
For more on The Conjuring 2, be sure to check out our set visit where we saw James Wan work as a master of horror. Plus, you can still watch the most recent trailer for the horror sequel right here.
The Conjuring 2 brings to the screen another real case from the files of renowned demonologists Ed and Lorraine Warren. Reprising their roles, Oscar nominee Vera Farmiga and Patrick Wilson star as Lorraine and Ed Warren, who, in one of their most terrifying paranormal investigations, travel to north London to help a single mother raising four children alone in a house plagued by malicious spirits.
The Conjuring 2 arrives in theaters on June 10.