'Powerless' Images: Get Your First Look At NBC's DC Comics Comedy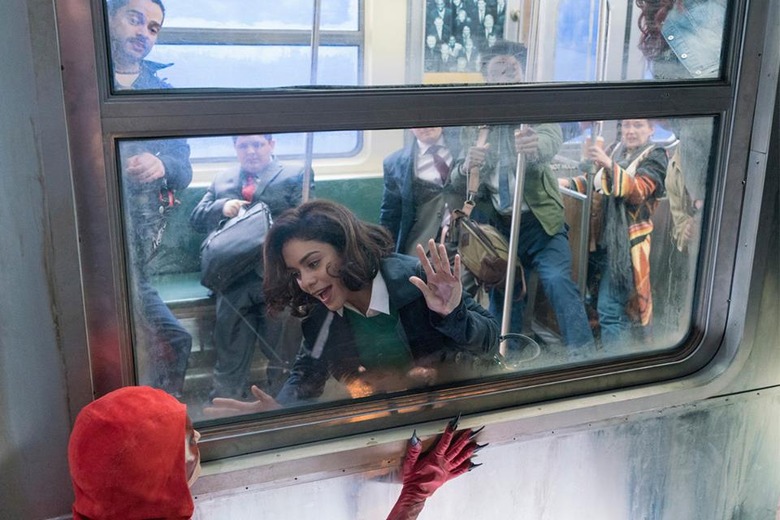 Whenever superheroes and supervillains throw down, there's going to be collateral damage. Sometimes there's more, sometimes it's less, but at best we're talking about millions if not billions in property damage and countless ruined days for ordinary civilians unlucky enough to live in a superpowered universe. While the superheroes get to return to Asgard or hole up in their secret Batcaves or whatever it is they do, these folks are left to sweep up the dust. Now a new comedy promises to tell their stories.
NBC has given a series order to Powerless, a DC Comics comedy about an insurance claims adjuster (Vanessa Hudgens) who has had it with the crime-fighting superheroes messing up her daily commute. Geek favorites Danny Pudi and Alan Tudyk also star, along with Christina Kirk. The show itself won't premiere for another several months, but the first photos have arrived to give you a little taste of this non-superhero superhero series. 
Here's how DC Comics describes Powerless:
Vanessa Hudgens plays Emily, a spunky young insurance adjuster specializing in regular-people coverage against damage caused by the crime-fighting superheroes. It's when she stands up to one of these larger-than-life figures (after an epic battle messes with her commute) that she accidentally becomes a cult "hero" in her own right ... even if it's just to her group of lovably quirky co-workers. Now, while she navigates her normal, everyday life against an explosive backdrop, Emily might just discover that being a hero doesn't always require superpowers.
The half-hour comedy is expected to premiere on NBC during the 2016-2017 television season, meaning we can expect to see it this fall or early next year. The series is created by Ben Queen (A to Z), who will write, executive produce, and serve as showrunner. Michael Patrick Jann directed the pilot and will also executive produce. Powerless is described as being "based on the characters from DC Comics," but it's unclear which (if any) familiar faces we can expect to see.
Superheroes are all over the small screen right now, but Powerless seems like a genuinely fresh twist on the genre. Besides, the newest trend in superhero storytelling seems to be hand-wringing over the dire consequences of all those dramatic third-act showdowns — this year, both Batman v Superman: Dawn of Justice and Captain America: Civil War dealt with the concept of collateral damage in very different ways. Powerless takes that to the next level, and while it's there brings some welcome levity to a typically dead-serious genre.