Find Out How Steven Spielberg Helped Discover Disney's New Young Han Solo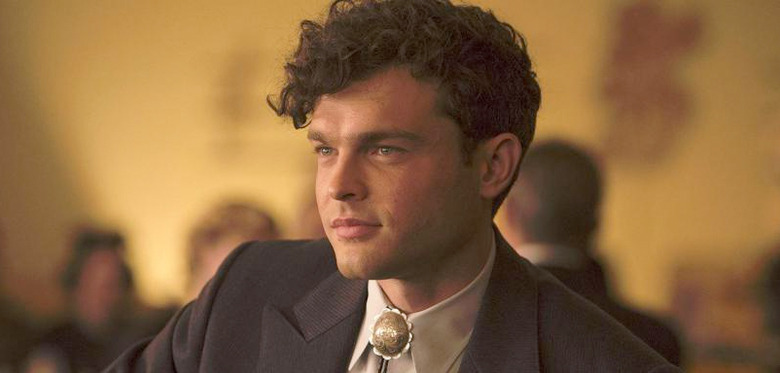 Disney has locked down actor Alden Ehrenreich to be their new Han Solo in the spin-off film that will be directed by The LEGO Movie and 21 Jump Street filmmakers Phil Lord & Chris Miller. In total, over 2,500 actors auditioned for the role including Miles Teller, Dave Franco, Ansel Elgort, Emory Cohen, Jack Reynor, and Taron Egerton. But Ehrenreich came out on top. While his work as an actor speaks for itself, Ehrenreich had someone in his corner who vouched for him, and it just so happens to be iconic filmmaker Steven Spielberg.
Find out more about the young Han Solo actor after the jump.
The Hollywood Reporter has some details on how Alden Ehrenreich finally landed the role of Han Solo for the A Star Wars Story spin-off slated for release on May 25, 2018. Ehrenreich's audition and breakthrough performance in Joel & Ethan Coen's Hail Caesar! certainly helped matters, but so did the fact that he was actually discovered by Steven Spielberg.
Ehrenreich was living in Los Angeles at 14 years old when Spielberg somehow spotted the actor in a bat mitzvah video. That sounds like one of those classic discovery stories that you're never really certain actually happen in Hollywood. But this led to Ehrenreich landing roles in Francis Ford Coppola's films Tetro and Twixt.
Tetro is quiet little drama definitely worth your time and a great display of Ehrenreich's acting talent, while Twixt is one of Coppola's more experimental films that I haven't seen. Funnily enough, you can also spot Ehrenreich as an actor at a part in Sofia Coppola's Somewhere, so the Coppola family had a hand in helping Ehrenreich get his career going.
Since then, the actor has dabbled in a wide variety of films, from the indie thriller Stoker to the young adult fantasy Beautiful Creatures (which was a hopeful franchise starter) and Woody Allen's Blue Jasmine. But Hail Caesar! being release during the audition process really helped Ehrenreich turn some heads, even if the character is a bumbling cowboy that is nothing like Han Solo. It just shows he's versatile, has comedic timing, and really disappears into a role. We'll also get to see him in one of the lead roles in Warren Beatty's long-gestating Howard Hughes movie, supposedly coming this year.
Helping to push Ehrenreich to the top of the pack to play Han Solo, both Spielberg and the elder Coppola reached out to Lucasfilm's Kathleen Kennedy to give their seal of approval. Since Kennedy has been friends with Coppola and Spielberg for years, their opinions were valued ones.
Once Ehrenreich was named as one of the contenders, he became the perfect choice in my eyes. Having seen Tetro years ago, I was already more familiar with his acting skills outside of his more popular films, and knew he had the chops to pull it off. If you would like to know more about Ehrenreich, check out The Playlist's rundown of the five films that helped him land the role.