'Free Fire' First Look: Brie Larson, Cillian Murphy, And Armie Hammer Are Dressed To The 9mm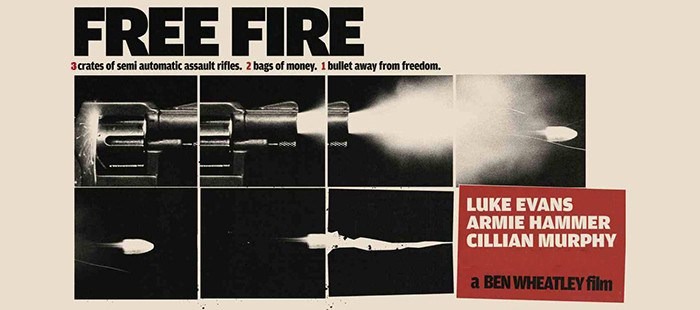 I've said it before and I'll say it again: Ben Wheatley is one of the most exciting filmmakers working today and I look forward to each of his movies like a kid looks forward to Christmas. I named Kill List one of my fifteen favorite movies of all time. I think High-Rise, which is currently available on VOD and hits theaters this week, is an astonishing (if divisive) achievement. I have a Sightseers poster on my office wall. I'm in the tank for the man.
So yes, I'm very much looking forward to his next film, Free Fire, which is finished and awaiting a release date as we speak. In the meantime, we can enjoy the first image from the movie, which shows off the awesome ensemble in some colorful duds.
As the clothing and hairstyles make abundantly clear, Free Fire is set in the '70s. Thankfully, Cillian Murphy, Brie Larson, and (the majestically tall) Armie Hammer wear the hell out of those fashions. Of special note is the gentleman on the far right: Michael Smiley, the incredible character actor who has starred in more than a few Wheatley productions, including Down Terrace, Kill List, and A Field in England. Heck, he even appeared in Wheatley's episode of Doctor Who and his segment in the horror anthology The ABCs of Death. I like seeing Wheatley working with bigger names, but seeing Smiley on board brings me such great joy.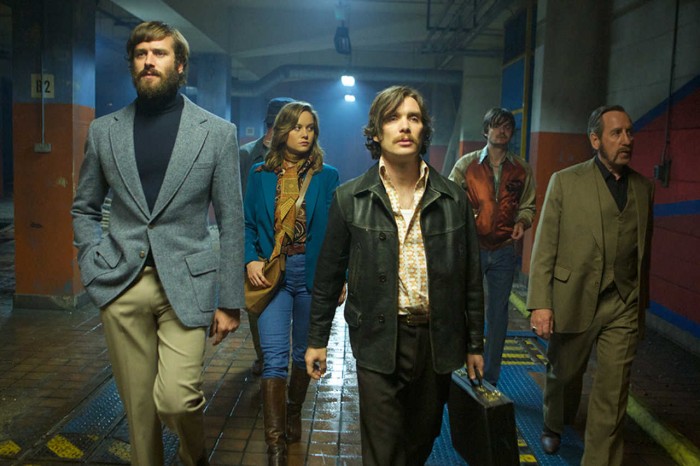 Although an official plot synopsis has yet to be unveiled for Free Fire, The Playlist offers this quote from David Kosse, who was involved in the film's production while he was at Film 4:
Free Fire is kind of a shootout in real time. It takes place in 1970s Boston and it is a deal for guns that's gone wrong and Ben clearly brings his highly visionary filmmaking style to a very contained and straightforward narrative. I've seen [the] film, [it's] utterly brilliant and entertaining, and hopefully we'll be sharing that with audiences again at festivals this year.
And while there is no official release date, Wheatley told The Film Stage that we should keep our eyes on September (and that yes, having an after-the-fact Oscar winner in the cast is very nice):
It's finished, so I think it's looking at a release in September. We're really looking forward to unleashing it. [As for Brie Larson], we were filming well before Room was nominated; none of it had happened really. All that was happening at the time was that Room was being talked about as being really good. But it's been an incredible ride for her. It's quite something, really.
Free Fire also stars Sharlto Copley, Jack Reynor, Sam Riley, and Noah Taylor.