'Voltron: Legendary Defender' Trailer: Lions And Robots And Galactic Conflict, Oh My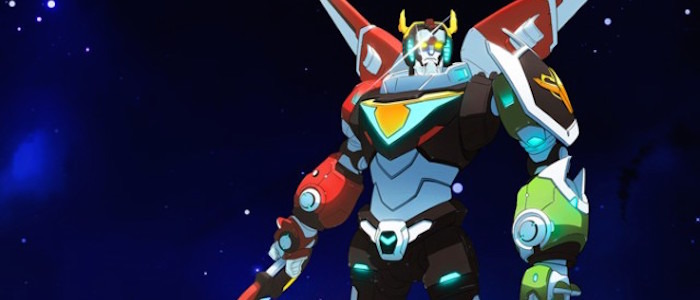 As I've written before, Voltron is one of those things that just escaped me when I was growing up. I have zero strong opinions on this universe and its characters, but I certainly understand the passion that so many other people feel for it. So I can only judge the new Voltron: Legendary Defender trailer as an outsider. It will be up to you, longtime Voltron fan, to cast the deciding verdict on whether or not Netflix and DreamWorks Animation have captured this world.
Knowing only the barebones basics of this story (giant robot lions come together to form bigger robot, universe is saved!), I walked away from this trailer actually feeling pretty impressed. Sure, it's a kids' show, but it's a kids' featuring epic galactic conflict and a diverse cast of characters who appear, at first glance, to not be the normal batch of cliches you'd expect from a show like this. Plus, the combination of traditional hand-drawn animation and computer generated imagery is surprisingly slick. I'm not sure if I'll actually watch the series, but I didn't feel any secondhand embarrassment while watching it.
The series will feature the voice talents of Kimberly Brooks as Princess Allura, Rhys Darby as Coran, Josh Keaton as Shiro (the Black Lion), Tyler Labine as Hunk (the Yellow Lion), Jeremy Shada as Lance (the Blue Lion), Bex Taylor-Klaus as Pidge (the Green Lion), and Steven Yeun as Keith (the Red Lion). The Legend of Korra veterans Joaquim Dos Santos and Lauren Montgomery serve as an executive producers on the series. Dos Santos issued this statement about the series:
As children of the 80's who grew up with Voltron what was there not to love? You had 5 awesome lions, piloted by 5 awesome heroes who combined to form a giant, sword wielding Titan! It unapologetically married Sci-fi and Fantasy in one incredibly over the top, bombastic package. Fans of the new series [Voltron: Legendary defender] can look for us to keep all those elements but also expect a much more fleshed out universe with a rich backstory and characters who will evolve over the course of the series.
When the first trailer arrived a few months ago, the basic plot of the series was described as follows:
Voltron: Legendary Defender centers on five Earth teenagers — Keith, Lance, Hunk, Pidge and Shiro — who are thrown into the middle of an intergalactic battle and become the last line of defense for Arus and other planets against an evil alien force led by King Zarkon.
The first season of Voltron: Legendary Defender will drop on Netflix on June 10, 2016.