'Peter Pan' / 'Alice In Wonderland' Prequel Coming From 'Brave' Director Brenda Chapman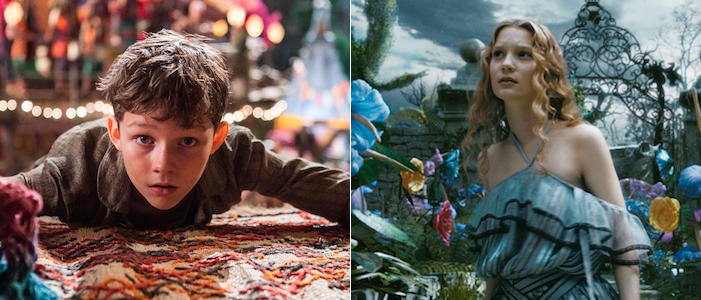 Brave director Brenda Chapman is doubling down on fairy tales. She's set to make her live-action directing debut with Come Away, a fantasy drama that's simultaneously a Peter Pan prequel and an Alice in Wonderland prequel. If you're wondering what on earth that could possibly mean, follow us down the rabbit hole (i.e., below the jump). Deadline reported on the Brenda Chapman Come Away project, which is being scripted by Marissa Kate Goodhill. Here's how the trade describes the story:
Before Alice went to Wonderland, and before Peter became Pan, they were brother and sister. When their eldest brother dies in a tragic accident, they each seek to save their parents from their downward spirals of despair until finally they are forced to choose between home and imagination, setting the stage for their iconic journeys into Wonderland and Neverland.
On the one hand, this all sounds very complicated and kind of overstuffed. Each half of this story seems like it'd be able to stand on its own, so from here it's not clear what the point is of combining them. Add in the fact that we've already got an ongoing live-action Alice in Wonderland franchise at Disney, and that we've just come off of a completely unrelated live-action Peter Pan reboot (with another one cooking over at Disney), and Come Away starts to sound redundant as well as confusing.
But on the flip side, a combined Alice in Wonderland / Peter Pan prequel sounds like it could be so crazy it just might work, and it'd surely set the stage for lots of stunning visuals. It should also be interesting to see how an animation veteran like Chapman evolves her style for live-action. In any case, it's certainly far too early to judge, so we'll remain cautiously optimistic and tentatively curious for now.
Before Brave, which won Chapman (and Mark Andrews) the Oscar for Best Animated feature, Chapman helmed The Prince of Egypt. As an animator she's worked on Chicken Run and Who Framed Roger Rabbit, and her story credits include Beauty and the Beast, The Lion King, and The Hunchback of Notre Dame. Chapman explained why she decided to make the leap to live-action with Come Away:
I had never really considered directing live-action – animation has always been my genre. But when I read Marissa's fantastical script, I felt that little tingly feeling run up my spine. I thought, 'Wow! I've changed my mind. I want to do this!' [Producers Michelle Manning, Leesa Kahn, and Andrea Keir] impressed me immediately with their unique approach to filmmaking, and I'm thrilled to be joining a team of dynamic and creative women.