Colin Farrell And Yorgos Lanthimos Will Reunite For 'The Killing Of A Sacred Deer'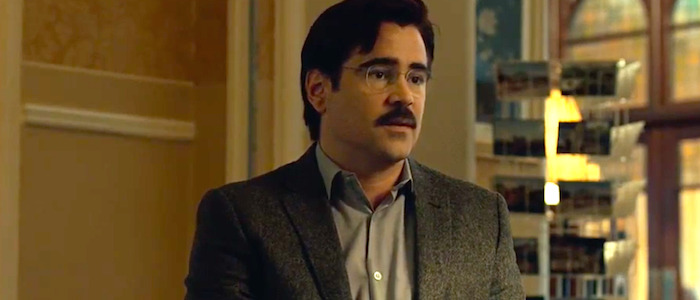 Colin Farrell is at his best when he's not trying to do the movie star thing. For every Total Recall, there's a Seven Psychopaths. For every Dead Man Down, there's an In Bruges. His career becomes even brighter when you start to appreciate how he refuses to phone in performances in movies where it would have been easy to sleepwalk, like Fright Night and Winter's Tale, which is the kind of legendarily bad movie that every actor deserves to have on their resume just so they can say they were there.
One of Farrell's more adventurous performances in recent years is in The Lobster, director Yorgos Lanthimos' English-language debut set in a world where single people are transformed into animals if they don't find a partner. It turns out that Farrell is a perfect vessel for Lanthimos' pitch black and surreal sense of humor, so it's only a good thing that the two of them are teaming up for another movie.
Variety reports that Farrell will star in The Killing of a Sacred Deer, which Lanthimos co-wrote and will direct. The film is described as being...
...inspired by a Euripides tragedy, [and] centers on Steven, a charismatic surgeon and a teenage boy who seeks to integrate him into his broken family. When the boy's actions become increasingly sinister, Steven's ideal life starts to fall apart and he is forced to make an unthinkable sacrifice.
Although the foreign rights to the film are currently being shopped around the Cannes Film Market, A24 has already scooped up domestic distribution. That makes sense, considering that they will be the ones to releasing The Lobster into North American cinemas this week (and you really, really should find time to see it if it's playing near you). 2016 is looking like a banner year for A24, who, in addition to The Lobster, have already released bonafide great movies like The Witch and Green Room into theaters. Their jam-packed schedule for the rest of the year includes movies like Swiss Army Man, De Palma, Free Fire, and Morris From America. They have showcased stunning good taste in the past and they continue to showcase it by grabbing the rights to the next Yorgos Lanthimos joint before a single frame has been shot.
Lanthimos is one of the most interesting directors working today and his breakout film, Dogtooth, is a must-see for anyone with even slightly adventurous taste in international cinema. The Lobster may feature more bankable names and recognizable faces, but it is just as smart, just as funny, and just as merciless as Lanthimos' Greek movies. His leap into English-language cinema hasn't dulled his wit or vicious satire in the slightest.
Hopefully, this is just the start of an ongoing partnership for these two. If The Lobster is any indication, Farrell seems to exist on Lanthimos' off-kilter wavelength, which is not something you're going to find in every actor.