Lynne Ramsay And Joaquin Phoenix Will Get Their Vengeance On With 'You Were Never Really Here'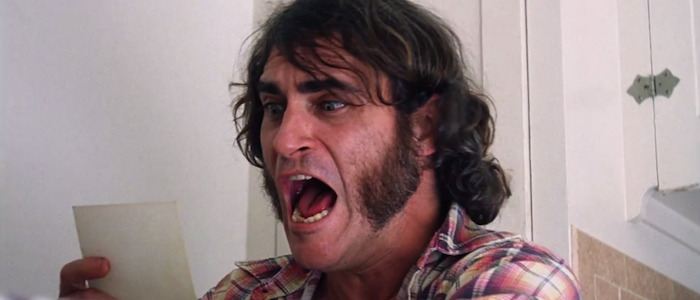 We've reached the point where Joaquin Phoenix deciding to star in a movie is nothing short of an event. He's picky these days, but that pickiness tends to work out for just about everyone – he works with some of the best and most interesting filmmakers alive and he consistently turns in phenomenal performances. Everybody wins, especially movie fans.
So that brings us to You Were Never Really Here, a thriller that will team Phoenix with director Lynne Ramsay. This news doesn't bring me to Joaquin Phoenix/Paul Thomas Anderson levels of interest quite yet, but it's certainly close.
Screen Daily revealed the news of this film's existence as part of a larger post about films being presented to buyers at this year's Cannes Film Market, where countless projects (of all kinds of quality) seek funding and distribution. And I'll say this much about You Were Never Really Here – it has one hell of an elevator pitch.
The film will see Phoenix play "a damaged war veteran, now a freelance rescuer of women trafficked into the sex trade." When a Manhattan-based job goes wrong, "a storm of violence and corrupt power is unleashed against him, stirring a vengeance that may be his awakening." I didn't even know I wanted Lynne Ramsay to direct Joaquin Phoenix in a nasty revenge thriller until this very moment, but oh man, do I want this.
Considering the complex nature of film financing, it's not clear when (and if we're being honest, if) You Were Never Really Here will arrive, but it's hard to imagine everybody saying no to this kind of talent being attached to this kind of story. However, both Phoenix and Ramsay can't help but feel like wild cards. He's the kind of guy who would derail his entire life for a few years by pretending to start an ill-fated hip-hop career. She's the kind of director who clashed so horribly with her producers of Jane Got a Gun that she abandoned the film days before it was set to shoot. Then again, he's the star of The Master, Her and Inherent Vice and she directed the brutal and unforgettable We Need to Talk About Kevin. They're probably worth any trouble.
Ramsay also wrote the screenplay for You Were Never Really Here, which she adapted from the novella by Bored to Death creator Jonathan Ames. Pascal Caucheteux, Rosa Attab and James Wilson are on board as producers. Just let me know when the cameras start rolling so I can believe this will actually exist. In the meantime, let me know if Joaquin Phoenix has decided whether or not he'll actually play Jesus.