'Star Wars Battlefront 2' Is Coming In 2017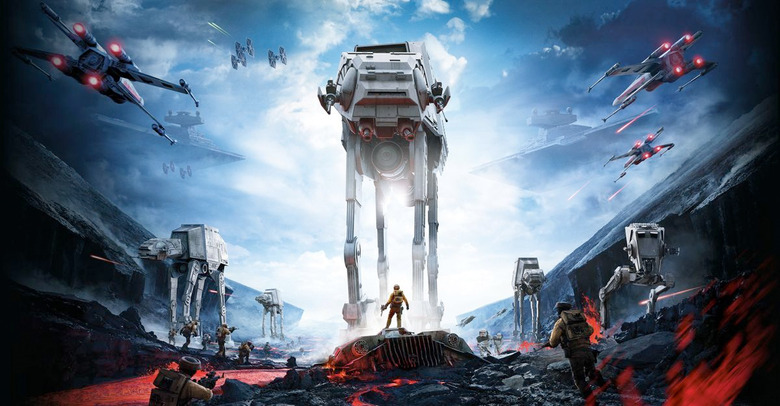 Yesterday, the 2016 fiscal earnings for Electronics Arts were revealed by the video game company, revealing that Star Wars Battlefront has sold 14 million copies so far. The game was one of the #4 best selling title of 2015, and it's been selling more and more each month, largely thanks to the expansion packs adding new characters, levels and game variants. With numbers like that, it should come as no surprise that a sequel is on the way.
Star Wars Battlefront 2 has been confirmed by Electronic Arts CFO Blake Jorgensen during this year's earnings call, but it won't arrive until 2017. And it's just one of a handful of Star Wars games intended to be released over the next few years. Find out more after the jump.PC Gamer has the news from Electronic Arts with Blake Jorgensen saying:
Next year we'll see Star Wars Battlefront back with bigger and better worlds, because we now have the new movies to work off [and] not just the historical movies that we used before.
Even though there have been expansion packs added to Star Wars Battlefront since the game's release last fall, they've yet to add any characters from Star Wars: The Force Awakens. The only addition to the game that was inspired by The Force Awakens was a level set during The Battle of Jakku, the war that left all those Star Destroyers and AT-ATs stranded on the desert planet for Rey to scavenge and live inside of.
Therefore, we can expect Star Wars Battlefront 2 to bring in heroes like Rey, Finn and Poe Dameron, probably the older version of Han Solo as well. More than likely Kylo Ren and Captain Phasma will be brought into the mix on the villain side of things. Plus, with Rogue One: A Star Wars Story arriving this winter, maybe characters, settings and vehicles from that film will be included in Star Wars Battlefront 2 as well.
The first Star Wars Battlefront is undoubtedly a fun game, but it's also repetitive. As someone who spends much more time in multiplayer than campaigns, that didn't bother because it allows you to be part of some of the biggest battles in the Star Wars galaxy without being forced to follow a certain path. Though I do wonder what a campaign with a story might be like in today's version of the game that was popular over 10 years ago.
There's no indication that this format will change in Star Wars Battlefront 2, so don't get your hopes up for a campaign mode. Personally, I spend most of my time playing the Fighter Squadron mode, because flying around in TIE Fighters, X-Wings and occasionally the Millennium Falcon or Slave I is just so damn fun.
As for the other Star Wars games EA has in store, the company plans to release one new Star Wars title each year for the next three to four years, beginning with Battlefront 2 in 2017. There's a game coming from EA's Visceral Games now confirmed for release in 2018, but we know absolutely nothing about it so far. However, there are rumors it may be in the same vein as the abandoned Star Wars 1313 game that was previously in development. Hopefully that will change soon.