Disney Finite: Disney Infinity Gets Discontinued, No More Marvel Or Star Wars Updates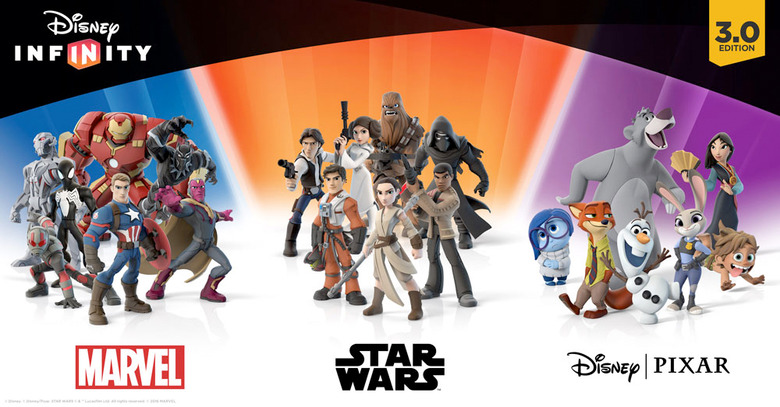 We have some bad news for anyone who has thrown down cash for Disney Infinity over the years. The House of Mouse has just announced that their Disney Infinity video game is coming to an end. After June, there will be no updates for Disney Infinity, which means you won't be able to have any new Star Wars and Marvel battles after this summer. You'll just have to settle for all the figures and environments that are already out there.
Find out more about the announcement of Disney Infinity discontinued after the jump.
Disney made an official announcement on the Disney Interactive blog:
By now you may have heard the news that we have made the difficult decision to discontinue production of Disney Infinity. From the beginning, Disney Infinity was built for you—our fans—and I wanted to take a moment to thank you not just for your support over the years, but for creating a community that made Disney Infinity more than just a game.
Our goal for Disney Infinity was to bring the best of Disney storytelling to life in homes around the world, and with your support we accomplished that. We hope you had as much fun playing the game as we had making it.
The good news is that there are still two more updates that will arrived before Disney Infinity completely pulls the plug. Alice Through the Looking Glass and Finding Dory will be the final updates for Disney Infinity, arriving in May and June respectively.
As with any major decision like this, Disney canceled Disney Infinity simply because sales weren't as high as they needed to be to sustain the cost of keeping it going. Bob Iger said the risk just caught up with them and the confidence in the project just wasn't there any more.
Variety's report on Disney's announcement also reveals the company will lose $147 million because of Disney Infinity. More importantly, the shutting down of Avalanche Studios, the company behind Disney Infinity, will result in about 300 people losing their jobs. Disney will certainly make back the money lost, especially with the huge box office they've been pulling in thanks to Zootopia, The Jungle Book and Captain America: Civil War so far, but those employees may be struggling for a bit.
Disney Infinity was a fun video game concept allowing a mash-up of characters, environments and vehicles that you would never see anywhere else. Having played the game with friends who enjoyed the game with their kids, I must say it was cool to play as Mr. Incredible wielding Captain America's shield while flying around the Millennium Falcon. At the very least, even without updates, there's still plenty of fun to be had with the game since it allows for so much independent play and customization. It's just a shame that the market couldn't sustain it enough to continue for years to come.