Ridley Scott To Direct 'Wraiths Of The Broken Land', From 'The Martian' Writer Drew Goddard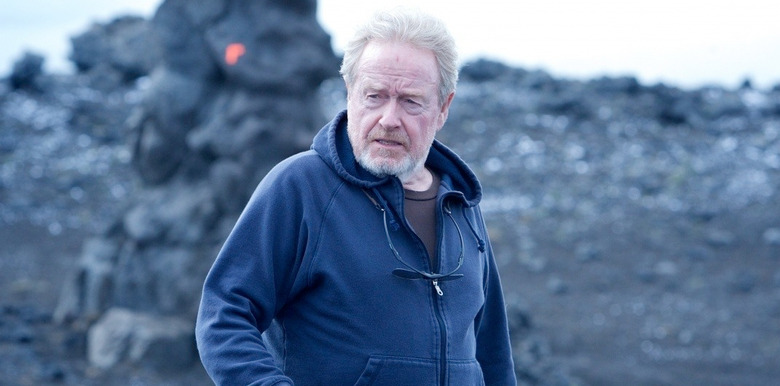 Never one to waste time between projects, Ridley Scott has already lined up a new directorial effort to follow Alien: Covenant. Scott is set to reunite with The Martian writer Drew Goddard for Wraiths of the Broken Land, based on a novel by Bone Tomahawk author S. Craig Zahler. Let's all step back for a moment and appreciate how much good stuff is crammed into that one sentence. 
Variety, who broke news of the Ridley Scott Wraiths of the Broken Land project, explains the story as follows:
"Wraiths of the Broken Land," published in 2013, is set in Mexico around 1900 with two sisters forced into prostitution at a gentlemen's club. The sisters' two brothers and their father attempt to rescue them through their outlaw gang which also includes a former slave, an Indian and a brutal gunman (or "wraith") who is the tactical leader.
The book's official synopsis additionally describes it as a "a savage Western experience that combines elements of Horror, Noir and Asian ultra-violence." Words like "brutal," "unflinching," and "gritty" are also thrown around, in case you were still unclear on just how very dark and twisted this thing is. But hey, it's also described as "character-driven," so it's not just doom and despair and misery for misery's sake.
Scott is now shooting his Prometheus sequel Alien: Covenant, due out on August 4, 2017. But it's not unusual for him to line up his next project before he's done with his current one. Other projects on his to-do list as a producer include the AMC series The Terror and a Magic Castle movie. Goddard snagged an Oscar nomination earlier this year for writing The Martian, and will serve as executive producer on Netflix and Marvel's The Defenders.
Wraiths of the Broken Land does not yet have a release date. Scott Free's Michael Schaefer, Genre Films' Simon Kinberg, and Aditya Sood are producing.