The Lonely Island Debuts Two Very Humble Singles From 'Popstar: Never Stop Never Stopping'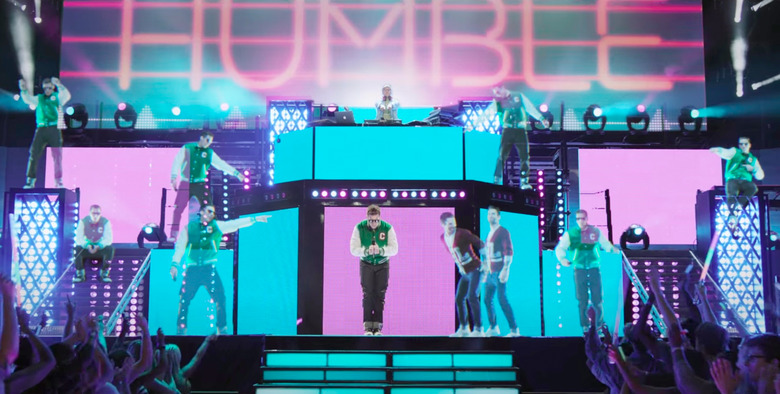 For anyone who has ever loved the music videos that The Lonely Island rap trio (Andy Samberg, Akiva Shaffer and Jorma Taccone) put together for Saturday Night Live, this summer's music industry mockumentary Popstar: Never Stop Never Stopping will be quite the treat. Not only can I tell you that the movie a non-stop laugh riot, but it also features an incredible array of new songs from The Lonely Island, and two of them have just been released as singles for you to listen to immediately.
There's the catchy "I'm So Humble" featuring Adam Levine accompanying Andy Samberg as rapper Connor4Real, and it's all about just how modest the chart-topping, influential rapper is. And there's also "Mona Lisa" which boldly declares the classic painting by Leonardo Da Vinci as an "overrated piece of shit."
Listen to the new Lonely Island Popstar songs after the jump.
"I'm So Humble" is one of my favorite songs from the soundtrack, if only because it's so catchy and well-produced. The music sound like something you would easily hear on the radio today, for better or worse, and that's what helps make the comedy so genuine. How can you go wrong with a line like, "The thing about me that's so impressive is how infrequently I mention all of my successes."
If you don't want to keep listening to these songs on YouTube, you can check them out on Spotify, iTunes, Apple Music, Amazon and Google Play. And there's plenty more where these came from, because Popstar: Never Stop Never Stopping has a whole soundtrack of songs written by The Lonely Island, and these two are probably the more tame of the bunch.
The full soundtrack will be released once the movie gets closer, and there will be songs on it that aren't even in the movie, though there's no release date just yet. At a livestreamed Q&A from an advanced screening at Alamo Drafthouse locations, the trio revealed there's plenty of songs that got cut, including another track with Akon after The Lonely Island previously collaborated with the rapper for "I Just Had Sex." The soundtrack will also get a vinyl release sometime down the road.
Watch the red band trailer for Popstar: Never Stop Never Stopping right here.
Universal Pictures' Popstar: Never Stop Never Stopping is headlined by musical digital-shorts superstars Andy Samberg, Akiva Schaffer and Jorma Taccone, collectively known as The Lonely Island. The comedy goes behind the scenes as singer/rapper Conner4Real (Samberg) faces a crisis of popularity after his sophomore album flops, leaving his fans, sycophants and rivals all wondering what to do when he's no longer the dopest star of all.
The latest comedy from blockbuster producer Judd Apatow (Trainwreck, Superbad, Knocked Up) co-stars Sarah Silverman, Tim Meadows and Maya Rudolph and many of the biggest names in comedy and music in cameo performances. Co-directed by Schaffer and Taccone and written by The Lonely Island trio, Popstar is also produced by Rodney Rothman (producer of Get Him to the Greek, Forgetting Sarah Marshall; co-writer of 22 Jump Street), as well as Samberg, Schaffer and Taccone.
Popstar: Never Stop Never Stopping opens June 3.