'Yoga Hosers' Trailer: Detective Johnny Depp, Nazi Bratwurst, Chatty Teens & Pure Insanity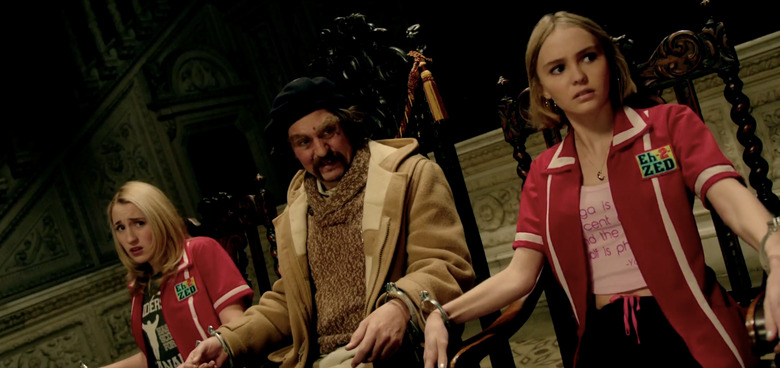 Director Kevin Smith is back with a movie that just might be his most insane yet. Yes, even though the Clerks filmmaker has done movies with a giant poop monster and Mark Hamill as a villain called C**k Knocker, and a horror movie with a walrus man, his Canadian-set, teenage horror comedy Yoga Hosers is the most bat s*** crazy movie he's ever made.
Some of the /Film crew caught Yoga Hosers at Sundance, and now the first trailer for the flick proves just how crazy it is. Johnny Depp is back as his goofy detective character Guy Lapointe from Tusk, but Harley Quinn Smith and Lily-Rose Depp (daughters of both Smith and Depp) play the chatty teens known as "The Colleens" in their first lead roles on the big screen.
Watch the Yoga Hosers trailer after the jump.
This doesn't exactly lay out the whole story, but we see that Guy Lapointe is trying to figure out some sort of case, needs the help of The Colleens, and there's a creepy little Nazi sausage version of Kevin Smith running around that they have to contend with. Thankfully, the special effects of what happens after they get torn apart seem to have improved, but that doesn't improve the film as a whole.
Our own Peter Sciretta previously called the film "a cross between an absurd live-action cartoon created by a stoner and a '90s-style teenage comedy," which is pretty accurate. Having seen the film myself, I can also tell you that it feels like a Disney Channel movie that was modified to play on Comedy Central in the middle of the afternoon (especially now that it officially has a PG-13 rating). It's also not particularly good, though the lead characters are fun in their own way.
The rest of the cast includes the likes of Tony Hale, Natasha Lyonne, Genesis Rodriguez, Adam Brody, Justin Long and a few cameos that comic book fans will enjoy, but we won't spoil here. If you want to know more, here's the synopsis for Yoga Hosers from its premiere at Sundance in January:
Colleen and Colleen are BFFs AF. Manitoba is where they go to school together, do yoga together, play in a band together, and work together at a boring convenience store. Life is whatevs, but also on fleek. That's kinda what being 15 and a half is all about. #RealTalk
So when two older guys invite the Colleens to a senior party, the girls are determined to go no matter what—even if that "what" is a terrible, secret evil that threatens to destroy everything decent and polite about Canada. Can Colleen and Colleen save the day and go viral? Will those senior boys prove squad-worthy?
Yoga Hosers will hit theaters on July 29, but Kevin Smith is also taking the film on tour to select cities around the country in June, so see if you can check it out early if this sounds like something you'll enjoy.