New 'Assassin's Creed' Photos: Michael Fassbender Is In The Past And Present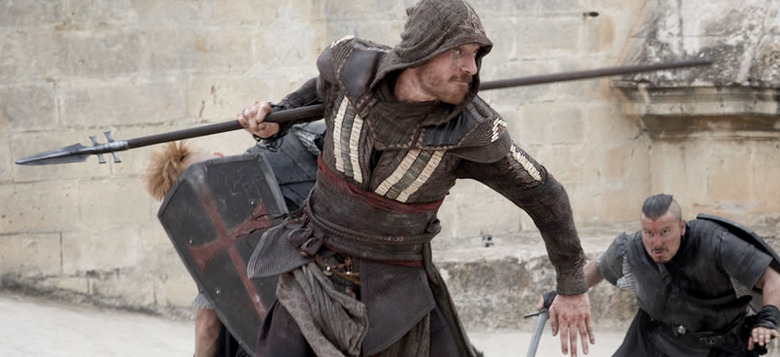 Many are hoping Warcraft will break the video game movie curse when it hits theaters in June. However, while Warcraft looks like an epic, fantasy blockbuster, it just might be too niche of a genre film to appeal to a larger general audience who isn't familiar with the game. That means some gamers and cinephiles are putting their eggs in the Assassin's Creed basket.
Macbeth director Justin Kurzel is reteaming with star Michael Fassbender for the big screen adaptation of Assassin's Creed, and the caliber of talent involved has many hoping this really will be the video game movie that actually works for gamers and movie lovers. Now some new Assassin's Creed movie photos have just been unveiled, showing Michael Fassbender both in the past and present. Check them out below.
Here's the two new Assassin's Creed movie photos from Omelete:
As you can see, one photo shows Fassbender in restraints as Callum Lynch in the present day, presumably awaiting the process of having his genetic memories unlocked. The other image has Fassbender as Aguilar, one of Lynch's ancestors from 15th century Spain who is part of a secret society known as the Assassins.
Even though there are many Assassin's Creed video games that make up the franchise, the film adaptation doesn't seem to be lifting any of the games' stories for the movie. Instead, it features Fassbender as original characters, both in the past and present. All that remains intact is the style of the 15th century character, the conflict between two secret societies, and the device that allows a present day man to experience his ancestor's adventures.
This kind of variation may not be immediately pleasing to fans of the game, but everything we've seen so far seems to indicate they're doing it right. The real test will be when the first trailer arrives. Since Assassin's Creed doesn't arrive until December, we're not sure when that will be. Since it's a 20th Century Fox movie, attaching a teaser trailer to X-Men: Apocalypse might be a safe bet, but we'll have to wait and see.
The rest of the cast features Marion Cotillard (The Dark Knight Rises, Inception), Michael K. Williams (The Wire, The Purge: Anarchy), Jeremy Irons (Batman v Superman: Dawn of Justice), Brendan Gleeson (Edge of Tomorrow, Harry Potter and the Goblet of Fire) and more
Assassin's Creed follows a character by the name of Callum Lynch who, through a revolutionary technology that unlocks his genetic memories, is able to experience the adventures of his ancestor, Aguilar, in 15th Century Spain. Callum discovers he is descended from a mysterious secret society, the Assassins, and amasses incredible knowledge and skills to take on the oppressive and powerful Templar organization in the present day.
Assassin's Creed hits theaters this winter on December 21.