Russell Crowe Confirms Dr. Jekyll Role In 'The Mummy', Which Will "Scare The Sh*t Out Of You"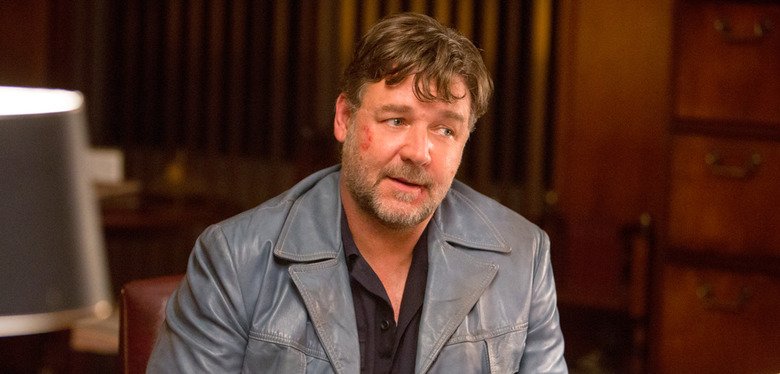 Only a few days ago news broke that Russell Crowe was being lined up for a role in The Mummy. The Australian actor was in early talks to play a Dr. Jekyll-type character in the first movie that will kick off an entire Universal monster movie universe. The intention was to have Crowe appear in a cameo-like role with the hopes of spinning off into his own movie. Now the news has been confirmed by the actor himself, and he's given a little more detail about what we can expect from The Mummy remake.
Russell Crowe is out and about promoting The Nice Guys (watch the final trailer right here), and Collider took the opportunity to ask him whether or not The Mummy was in his future. Normally actors play coy about these kinds of things, but Crowe fully confirmed his casting, "Yeah, I'm gonna do it. I'm gonna play Dr. Henry Jekyll, Fellow of the Royal Society."
Crowe explained that he's already talked with director Alex Kurtzman a couple times about the movie, and the actor seems to be pretty excited to work with Tom Cruise. He also added, "I've known Tom Cruise since 1992, or something like that. When he was married to an Australian, I was really good friends with him. But when he got divorced, I was part of the settlement package, and I went to Nicole [Kidman]."
Speaking about The Mummy, Crowe seems to be genuinely excited about the project, specifically praising the potential Kurtzman has for his sophomore directorial effort:
He really understands the world and he's been around a long time, on a lot of big projects. He knows how to get something from an idea on the page onto a soundstage and into a camera. Sure, I would imagine he's scared s***less right about now, and having a hard time sleeping because he's got ten million things on his mind right now. But when we started talking about this idea, there were a few things I put up in the air and he picked up on them. Those kinds of creative collaborative conversations, if they're explosive like that from the first time you start talking, and somebody says something that goes off in your mind and that bumps up something that you say and that other person bounces off of that, you're actually in a really good place. How they've pulled all of this stuff forward into a contemporary world and how they're building it out from there, and how all of the different character interweave into each other's stories, it's fantastic.
Beyond his excitement about the collaborative aspect, Crowe teased what to expect by saying it's "designed to seriously scare the s*** out of you." That's a much different approach than The Mummy movies that Brendan Fraser starred in, and that's probably for the best. In case you missed it, here's the official synopsis that was revealed before the weekend:
Tom Cruise headlines a spectacular, all-new cinematic version of the legend that has fascinated cultures all over the world since the dawn of civilization: The Mummy.
Thought safely entombed in a crypt deep beneath the unforgiving desert, an ancient queen (Sofia Boutella of Kingsman: The Secret Service and Star Trek Beyond) whose destiny was unjustly taken from her is awakened in our current day, bringing with her malevolence grown over millennia and terrors that defy human comprehension.
From the sweeping sands of the Middle East through hidden labyrinths under modern-day London, The Mummy brings a surprising intensity and balance of wonder and thrills in an imaginative new take that ushers in a new world of gods and monsters.
The Mummy arrives on June 9, 2017.