'Doctor Strange' Summons Composer Michael Giacchino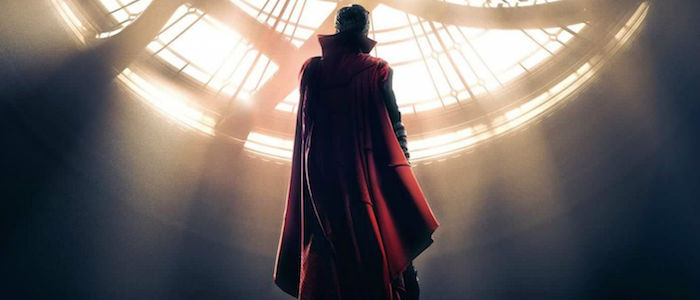 As much as I enjoyed Captain America: Civil War, there is one area where it falls flat on its face – the musical score is wholly unremarkable. Heck, just about every single movie in the Marvel Cinematic Universe is guilty of this exact same sin. Here are dynamic characters, colorful heroes who demand to be associated with instantly recognizable melodies, and their adventures are scored with the musical equivalent of vanilla pudding. No single MCU movie features identifiable music and that's a shame.
So what are we to make of Michael Giacchino, one of the most talented and celebrated modern composers of music for film and television, jumping on board Marvel's Doctor Strange? Unless something goes terribly wrong, this may mean we'll finally get a recognizable MCU musical score.
Giacchino revealed the news on Twitter, sharing the film's poster and tagging Marvel and director Scott Derrickson:
Things are about to get, well... really STRANGE.@scottderrickson @Marvel pic.twitter.com/LIhuCNy3lB

— Michael Giacchino (@m_giacchino) May 6, 2016
This is a genuinely exciting development. The mystical world of Doctor Strange is, well, strange. It demands music that doesn't sound like it was simply spliced from any other action movie. We're talking about a movie whose main character is a sorcerer who wears cloak of levitation, wields magical devices with wild names like the Eye of Agamotto, and lives in a Greenwich Village townhouse that is actually a natural focal point for supernatural activity. This is a movie that deserves to have its weirdo flag fly at every opportunity, especially with the musical score.
A glimpse at Giacchino's IMDB page will reveal a career with humble beginnings. Although he got his start composing video game music in the late '90s and early '00s (his credits include games like the original Medal of Honor and the first Call of Duty), Giacchino broke out in a big way once he began collaborating with J.J. Abrams, scoring all 105 episodes of Alias and all 117 episodes of Lost (the latter of which remains one of the television's finest scores). He followed Abrams to the big screen, composing music for Mission: Impossible III, Star Trek, and Super 8. Along the way, he also became of Pixar's go-to composers, providing music for The Incredibles, Ratatouille, Inside Out, and Up (for which he won an Academy Award).
Giacchino's recent scores include Dawn of the Planet of the Apes, Jurassic World, Jupiter Ascending, and Zootopia. Whether he's creating something entirely new or reinventing an iconic theme, Giacchino is one of the best we've got. And hopefully, he'll be able to bring some much-needed magic to the MCU. After all, Doctor Strange could use some good news right about now.