Adam McKay Bringing 'Irredeemable' Superhero Comic Book To The Big Screen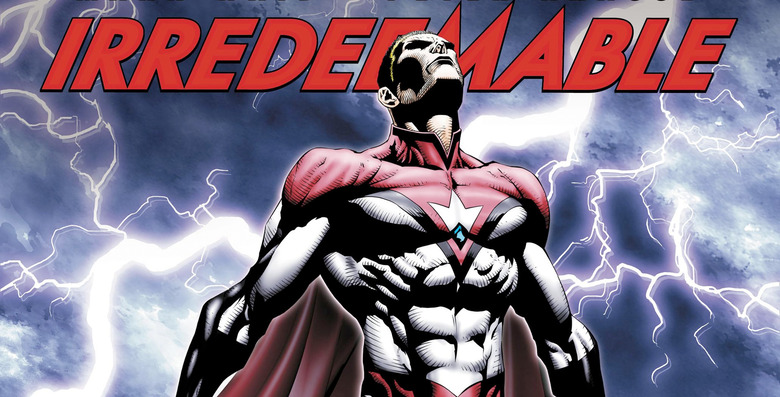 Last year there were rumblings that Adam McKay might eventually end up directing a movie at Marvel Studios. While McKay is better known for comedies like Anchorman: The Legend of Ron Burgundy and Step Brothers, he was also hired to rewrite the script for Ant-Man with actor Paul Rudd. Plus, his recent turn at drama with the financial crisis story The Big Short, which earned him an Oscar for Best Adapted Screenplay. So now McKay is getting his crack at a superhero movie... but it's not with Marvel.
Adam McKay has been slated to direct Irredeemable, an adaptation of the Boom! Comics title which follows a superhero who takes a rather dark turn. Find out more about the Irredeemable movie after the jump.
Irredeemable ran for 36 issues after debuting on comic book shelves in 2009. The series written by Mark Waid follows the Plutonian, dubbed the world's greatest superhero. However, things take a turn for the worse when the Plutonian begins to slaughter people on Earth who defy him, turning him into a supervillain. That leaves a superhero group called the Paradigm, all former colleagues of the Plutonian with problems of their own, to stop him. Things escalate when the Paradigm realizes they can't defeat the Plutonian and they must ask a real supervillain to helm them out.
This sounds like it could be a movie that really plays with the staples of the comic book genre, and Adam McKay seems like the right director to do that. With Fox coming off the success of Deadpool, I wouldn't be surprised to see Irredeemable be a little more on the edgy side of comic book flicks, especially since some of these superheroes will actually get killed.
Deadline adds the Irredeemable script will come from Tommy Wirkola, who previously wrote Hansel & Gretel: Witch Hunters. In case you don't remember, McKay also produced that movie, and the tone of the dark, bloody, fantasy might be similar to what we can expect with Irredeemable. But hopefully it will be a far less silly.
Adam McKay has a very promising career ahead of him, and I hope he continues to surprise us with his choices as a writer and director. Taking on Irredeemable as his first superhero flick as a director sounds a little more interesting than him directing a Marvel movie, if only because he'll have a lot more freedom to make the movie he wants without having to fit into the well-established Marvel cinematic universe. Stay tuned to see how this project develops.