'Urge' Trailer: Maybe You Shouldn't Buy Drugs From A Cackling Pierce Brosnan?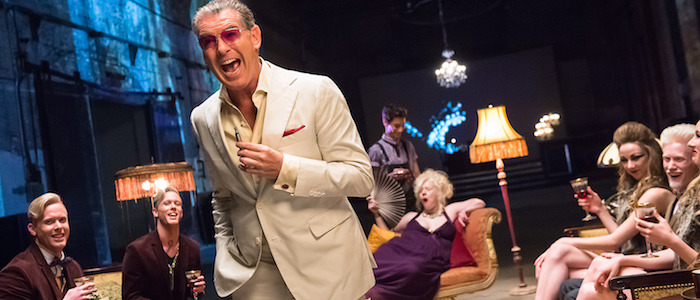 Every James Bond actor must eventually come to terms with the end of his tenure as the most famous spy in movie history and address a most terrifying question: what's next? For Sean Connery, that was a decade-plus of poor choices followed by an Oscar, a career resurrection, and a quiet retirement. For Roger Moore, that was a few decades of work followed by an unofficial position as official mascot of the 007 series. For Timothy Dalton, that was a slow transformation into a malleable supporting actor and eventually, a fantastic starring role on Penny Dreadful.
The arrival of the Urge trailer finally gives us a clue what Pierce Brosnan's later years may look like now that he's officially phasing out of the action hero thing. If this preview is any indication, Brosnan is fully prepared to drop all inhibitions and become the wacky character actor that we've occasionally been able to glimpse beneath his steely veneer. Urge looks like a must-see just so we can bear witness to whatever the hell Brosnan is doing here.
To be fair to everyone else, Brosnan isn't even the lead character in Urge, which marks the directorial debut of producer Aaron Kaufman. The real lead is Justin Chatwin, who watches his island vacation descend into a nightmare as a new designer drug – the kind of fancy movie drug that is served in glass vials and glows blue – strips away the inhibitions of his friends and transforms them into dangerous addicts. Brosnan plays the local drug dealer (who is hilariously credited as The Man on IMDB and even more hilariously credited as Daemon Sloane on Wikipedia) who supplies them with the dangerous goods.
For the most part, Urge looks like a fairly standard entry in the drugs-make-everyone-psychotic thriller subgenre (see also: Shrooms). It looks like a decent blend of flashy and trashy, the kind of junk food I can see myself getting behind. But it's Brosnan who has my full attention. With his belated blonde hair, tinted glasses, and preposterous wardrobe, he looks like he's embraced a destiny no one saw coming – a pitch-perfect B-movie villain. Watch him go from zero-to-eleven in single shots in this trailer. Listen to his villainous cackle. which feels like a carefully crafted choice made from a position of total insanity. I don't know what Brosnan is doing here, but I want to see more of it.
Here is the official synopsis:
A weekend getaway takes a dangerous turn when a mysterious nightclub owner (Pierce Brosnan) introduces a group of friends to a new designer drug. Stripped of their inhibitions, they start living out their wildest fantasies – but what starts out as a fun night of partying quickly turns deadly, as the island paradise deteriorates into a tropical madhouse.
Urge will enter limited release on June 3, 2016 before arriving on VOD.