'It Follows' Director David Robert Mitchell Is Making A Noir With Andrew Garfield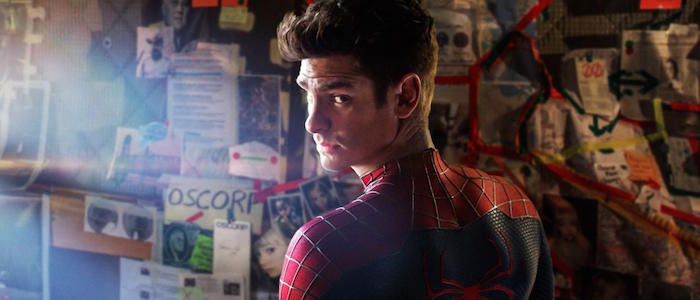 I'm in the bag for David Robert Mitchell. His stellar horror film It Follows was one of my ten favorite films of 2015 and I really like his heartfelt (and tragically under-seen) debut, The Myth of the American Sleepover. Despite his first two films existing in completely different genres, his voice is crystal clear in both of them, with each movie exploring the pain of growing up and the fear of facing the world alone. He's a filmmaker with a unique perspective and an artist to watch.
Now, he's lined up his next movie: a film noir starring Andrew Garfield.
Variety reports that the film, titled Under the Silver Lake, will begin filming later this summer. Like with his past two projects, Mitchell also wrote the screenplay. Unlike his past two projects, he has a big name at the center of the film in Garfield, who is doing a pretty great job of rebounding from the disastrous Amazing Spider-Man series.
Plot details are unknown, but Variety describes the film as "a modern-day noir crime thriller set in Los Angeles," which is the exact kind of left turn you'd hope Mitchell will take. He followed up his charming coming-of-age tale debut with a freaky horror movie. A move into crime thriller territory feels natural.
Producer Michael De Luca offered this praise of Mitchell in an official statement:
David Robert Mitchell is one of the great new voices in cinema and I am honored to be working with him and the entire producing team. I look forward to working with the esteemed team at Insiders to bring David's film to audiences around the world.
Perhaps the most intriguing tidbit here is the is the "modern-day" descriptor, since Mitchell's previous two films were set in deliberately opaque timelines that felt like they could be 2016 or 1986 one a scene-by-scene basis. It Follows and The Myth of the American Sleepover feel literally timeless and that would be a nifty way to approach a noir tale. Let's see how literal Under the Silver Lake gets with its setting.
This sounds like interesting material for Garfield, a fine actor who fell into the superhero abyss for a few years. Thankfully, he's in the middle of a post-Spidey comeback. He won acclaim for turning in solid, understated work alongside Michael Shannon in 2014's 99 Homes and 2016 will see him appear in films directed by Mel Gibson (the war film Hacksaw Ridge) and Martin Scorsese (the historical drama Silence). It's nice to see Garfield back in action and out of the red and blue tights.
With production starting in a few months, we can probably expect to see Under the Silver Lake pop up some time in 2017.