'LEGO Star Wars: The Force Awakens' Trailer: Hear Harrison Ford Actually Say "Wookiee Cookies"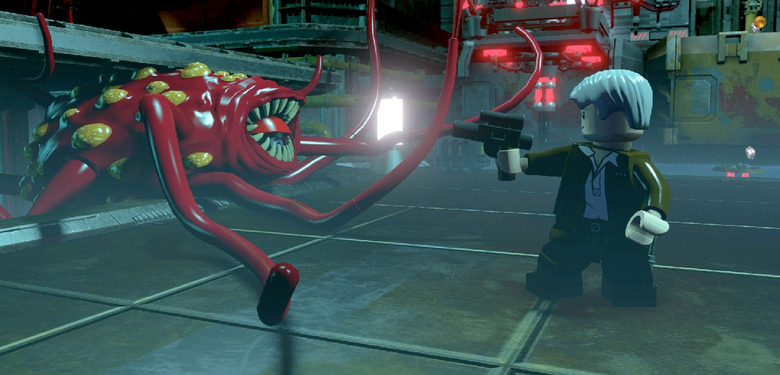 It's Star Wars Day! Some of us were hoping the day would bring a Star Wars: Episode VIII teaser trailer or some kind of new sneak peek for Rogue One: A Star Wars Story. But instead, we're getting a bunch of sales on Star Wars merchandise, and promotions of new goods on the way, like the LEGO Star Wars: The Force Awakens video game coming to shelves this summer.
A new LEGO Star Wars: The Force Awakens trailer has just arrived, and I will say that one thing making this particular LEGO Star Wars installment is the involvement Daisy Ridley, John Boyega, Oscar Isaac, Adam Driver and even Harrison Ford as their respective characters from the movie. They got Harrison Ford to say the phrase "Wookiee cookies," for crying out loud! It adds a certain level of authenticity and more fun that the previous LEGO Star Wars games were lacking. Watch below!
Here's the new LEGO Star Wars The Force Awakens trailer:
The missions for this game are pretty cool, giving us side stories that we didn't see play out in the movie (though since this is a LEGO game, they're not canon). For example, you get to see Han Solo hunt some rathtars, Poe Dameron rescue Admiral Ackbar, and Captain Ithano (a.k.a. the Crimson Corsair) do some bounty hunting.
If you're looking for more, here's eight minutes of actual gameplay footage to check out from IGN:
If you want to find out more about the new gameplay features, check out the previous trailer in our post with even more details on LEGO Star Wars: The Force Awakens right here.
The game will be available on PlayStation 4, PlayStation 3, PlayStation Vita, Xbox One, Xbox 360, Wii U, and Nintendo 3DS with a deluxe edition also available for PlayStation 4 and Xbox One that comes with an exclusive LEGO Finn minifigure and a season pass for DLC. In addition, the PlayStation 3 and PlayStation 4 versions will get access to exclusive downloadable content, the Droid Character Pack and the Phantom Limb Level Pack.
LEGO Star Wars: The Force Awakens takes players deeper into the new film than any other game with all of the heroic characters from the movie, including Rey, Finn, Poe Dameron, Han Solo, Chewbacca, C-3PO, and BB-8, as well as Kylo Ren, General Hux and Captain Phasma, while also exploring iconic Star Wars locales, such as Jakku and Starkiller Base.
This action-packed adventure introduces new gameplay features, including the enhanced "Multi-Builds" system, where players can choose from multiple building options to advance the game. Gamers will be able to engage in intense new Blaster Battles for the first time, utilizing surrounding environments to drive back the First Order. Fans can also experience the thrill of high-speed flight gameplay through arena-based battles and dogfights in space, while utilizing a multitude of vehicles along the way, including the legendary Millennium Falcon.
LEGO Star Wars: The Force Awakens hits shelves on June 28.