Arnold Schwarzenegger Joins Action-Comedy 'Why We're Killing Gunther', From 'SNL' Star Taran Killam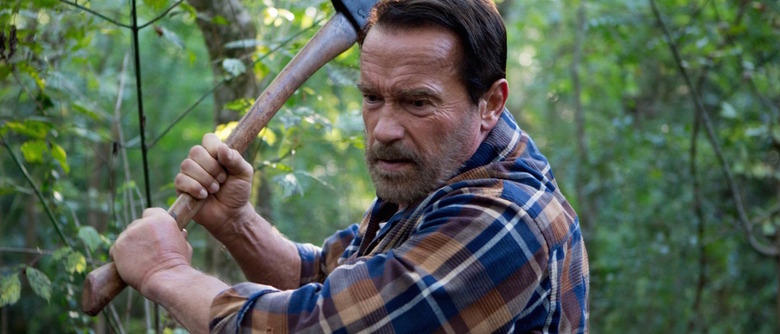 In between his attempts to revive his signature action franchises, Arnold Schwarzenegger has been flexing his dramatic muscles. First he played the grieving father of a zombie in Maggie, then he signed on for the Darren Aronofsky-produced revenge drama 478. But now he's veering in the complete opposite direction, joining a promising new project involving some fantastic comedy stars.
Schwarzenegger will play a hitman who becomes the target in Why We're Killing Gunther, the directorial debut of Saturday Night Live star Taran Killam. Also starring will be Cobie Smulders (The Avengers), Bobby Moynihan (Saturday Night Live), and Randall Park (The Interview). 
The Hollywood Reporter got the scoop on Why We're Killing Gunther. In addition to directing, Killam wrote the script and will star in the ensemble comedy. Paul Brittain (Saturday Night Live) and Ryan Gaul (Identity Thief) are also among the cast. Killam will produce with Kim Leadford, Ash Sarohia, and Steve Squillante. Shooting is expected to get underway in June.
Why We're Killing Gunther stars Schwarzenegger as the world's greatest hitman, who's let all his awesomeness get to his head. He's become an intolerably arrogant show-off, and so his fellow assassins (an eccentric bunch presumably played by the other characters named above) decide to do what they do best and take him out. But Gunther's so sharp that he's always one step ahead of them, leading the group into a series of hilariously embarrassing mishaps.
The role sound pretty perfect for Schwarzenegger. While he's mostly known as an action star, he's got plenty of comedies on his resume including Twins and Junior and Kindergarten Cop. Maggie let us see him do subtler, more serious work; Terminator Genisys was a reminder that he's got charm in spades (even when the film around him is falling apart). Why We're Killing Gunther will give him a chance to go funny again.
Killam has been on Saturday Night Live since 2010. His movie roles include Paul Feig's The Heat and Steve McQueen's 12 Years a Slave. He's married to Smulders, best known for her long-running role on How I Met Your Mother and her recurring role in the Marvel movies. Her other big-screen credits include the David Wain comedy We Came Together, the Nicholas Sparks drama Safe Haven, and the indie dramedies Results and The Intervention.