'The Blues Brothers' Animated Series In The Works, Because Nothing Is Sacred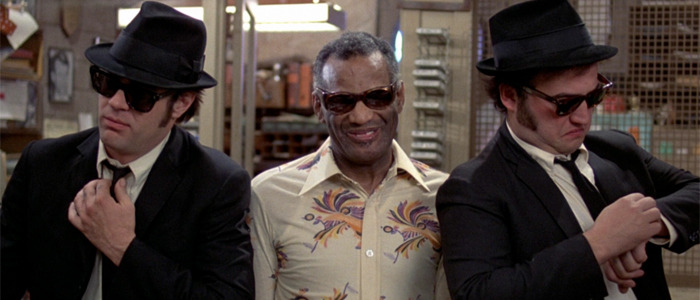 Even though legendary comedian John Belushi died back in 1982, that didn't stop The Blue Brothers from getting revived for the unnecessary sequel Blues Brothers 2000. Therefore, it should come as no surprise that a lack of John Belushi isn't stopping his partner in comedy crime, Dan Aykroyd, from developing a Blues Brothers animated series for primetime television. Thankfully, he's collaborating with the right people to potentially make it work.
Get details on The Blues Brothers animated series after the jump.
The Wrap reveals that Bento Box Entertainment is developing and producing the animated take on the 1980 classic that was based on the classic Saturday Night Live characters brought to life by Dan Aykroyd and John Belushi. Serving as co-creator and executive producer will be Dan Aykroyd, and he'll be joined by John Belushi's widow Judith Belushi-Pisano and SNL writer Anne Beatts, both serving as co-creators and executive producers as well.The Blues Brothers animated series will follow "the music, mayhem and comedy adventures of Jake and Elwood Blues, along with the characters within their master blues band." The duo and their band will hit the road and head back to sweet home Chicago with their signature tunes and some new music as well.
Since this is a Blues Brothers project, music will be very important to the series. Each episode will have a score and soundtrack "curated with the soul, blues and R&B classics and hits performed by the original legendary musicians" That means we'll probably be hearing John Belushi's voice in some of the episodes. But instead of just rehashing all the old songs the Blues Brothers used to sing, there will also be new performances recorded specifically for the show, some of which will feature special guest musicians that include up and coming musicians, blues legends and well-known music superstars from today.
Aykroyd isn't specifically mentioned as voice talent, but if they're using the music that he sang with Belushi decades ago, then I don't know why they wouldn't use his voice for his character as well. But maybe two new vocal talents will be brought in for the non-musical portions of the show. Anyway, here's what Aykroyd had to say about the series:
It's so great to accelerate Jake and Elwood at digital speed into the 21st Century via the outstanding creative group at Bento Box. The show will be the Blues Brothers living in America and utilizing all new technology to make and promote their own records, seek out and record new artists and avoid law enforcement – and all while fighting for truth, justice and a better breakfast sandwich.
There's just something about this that feels sad and desperate. There is some hope since Bento Box Entertainment produces Bob's Burgers, and that animated series is fantastic, but The Blues Brothers without John Belushi just feels pointless and half-hearted.
The Blues Brothers animated series will be shopped to various television platforms this month, and we'll see if anyone is interested in bringing these classic characters back to the screen. Honestly, I'd rather see a revival of Wayne's World since both Mike Myers and Dana Carvey are still alive, but that doesn't seem to be in the cards.