Things Aren't Looking So Good For 'Agent Carter' Season Three Or 'Marvel's Most Wanted'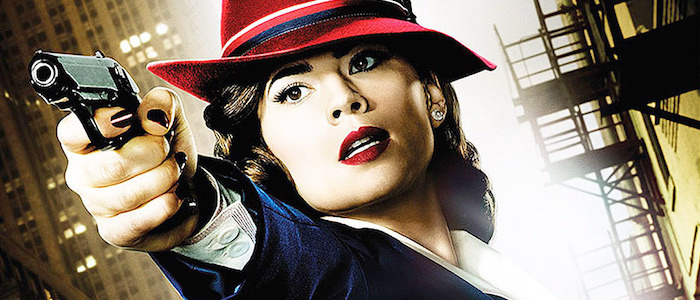 After finishing up its second season earlier this year, fans have been wondering if Agent Carter would return for a third season, especially since lead actress Hayley Atwell had landed another lead role in the courtroom drama Conviction, also on ABC. Reports said that the production schedule for each shows would have allowed her to do both, however, a new update indicates that Agent Carter may be retired after all.
In addition, there may be more bad news for fans hoping to see Marvel's TV roster expand on network television as Marvel's Most Wanted doesn't sound like it's guaranteed to get a series order as was once thought.
Find out about what's going on with Agent Carter season three and Marvel's Most Wanted after the jump.
The update on both of these Marvel shows comes from a story at The Hollywood Reporter where they picked out 10 pilots that are likely to get a full series order. One of those pilots is the aforementioned Conviction, and while talking about that show, they mention the two Marvel series and where they're at on ABC's radar at this point.
First up, when the trade mentions Agent Carter, they say that it's "highly unlikely" for the show to get a third season. That's probably a bummer for fans who liked seeing a strong female character like Peggy Carter get her own show, but it wasn't exactly a runaway hit, and interest seemed to be waning even among fans in its second season. Part of me wonders if the show might have fared better as a Netflix production, but I guess we'll never know (unless they decide to rescue the series).
Secondly, Marvel's Most Wanted has been in the works since last summer and just recently added some cast members back in March. The series focusing on Lance Hunter (Nick Blood) and Bobbi Morse (Adrianne Palicki) from Agents of SHIELD was once thought to be a lock for a full series order, but now the same THR report says the series "has been cooling" behind the scenes and may not end up on the air after all.
On the other end of the spectrum, Variety says that while Marvel's Agents of SHIELD is not a sure thing for a series order, their report says it still has a decent shot of getting picked up. From my perspective, following two more SHIELD agents after the depart the organization sounds like the least creative spinoff to put forth for the television side of the Marvel cinematic universe, so I wouldn't really mind if it didn't move forward.
If Agent Carter doesn't get renewed and Marvel's Most Wanted doesn't get ordered to series, that only leaves Damage Control to expand the Marvel television line-up on network television. Stay tuned to see how all of these shows pan out.