There's A Tom Hanks Movie In Theaters And You Didn't Even Know About It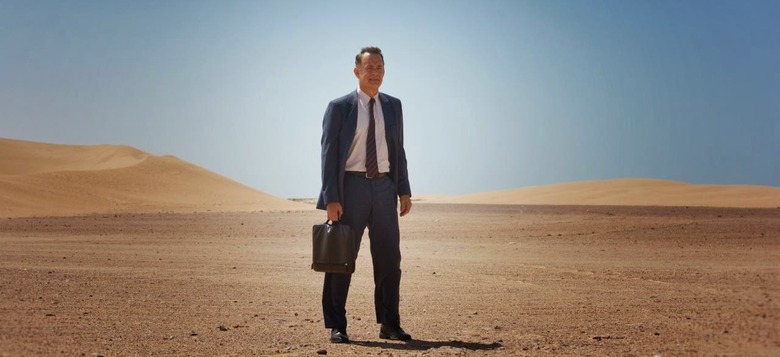 Tom Hanks stars in a movie currently in theaters, but you might not be able to tell judging by the absence of advertising, much less critical buzz, for A Hologram for the King. Tom Tykwer's gentle (and often lovely) adaptation of Dave Egger's novel of the same name was recently released into a few hundred theaters, and it was met with somewhat mixed reviews and an underwhelming opening weekend at the box office, even by its own modest standards.
How exactly does a movie that stars Tom Hanks manage to fly so far under the radar for the general public? Is the film simply not commercial enough? Maybe, but whatever the case, it's still a little disheartening to see a fine drama with a name like Hanks attached to it fail to reach a wide audience.
The official domestic release date for A Hologram for the King wasn't announced until two months ago. A month later, we saw an uninspiring trailer for the film, which you could now say spelled trouble for the film. Nothing about the trailer screams: "from the ambitious director of Run Lola Run and Perfume: The Story of a Murderer." The terrible voiceover ("Sometimes you have to change your scenery to change your life"), the awkward pacing, and the focus on the film's broader jokes promises a tonally uneven, wild and wacky journey for an unhappy American — which this adaptation is not. Very little of this footage properly reflects Tykwer's understated but often playful visual style, Hanks' nuanced performance, or the true spirit of the film.
To be fair, this isn't really a story you can encapsulate with a one-sentence pitch. The film's peculiar tone and freewheeling structure do not fit comfortably into one box or genre. Towards the end of the trailer, all of the sudden the story becomes a romance, but A Hologram for the King is not a love story. There is a romantic subplot, but like in Egger's book, it's far from the central focus of the story. Selling a frequently repetitive, character-driven drama isn't easy, but the trailer still fails to communicate what the movie really is — a rambling, almost entirely character-driven drama about taking a few hits in life you're not sure you can get back up from.
Tykwer, who's proven he's capable of conquering near-unadaptable works with Perfume: The Story of a Murderer and Cloud Atlas, sticks closely to Egger's repetitive narrative. Alan Clay spends a lot of time alone, writing emails to his daughter and reflecting on the past, which we see little of in the trailer, and the Cloud Atlas co-director does a great job making these scenes more cinematic than they sound. There are some fun surreal touches — the opening is a dream sequence featuring Alan Clay singing Talking Heads' "Once in a Lifetime" — that help liven up some potentially mundane sequences. Perhaps a broad audience would initially find these oddball touches distancing, but at its core, A Hologram for the King is a fairly accessible, charming and warm story about dealing with professional failure and missed opportunities in life; it's not the 10 different movies the trailer is trying to sell.
Tykwer's picture opened in 401 theaters on April 22nd, making around $1.2 million and averaging just over $3K per screen. There is an audience for a drama like A Hologram for the King, a much bigger audience than the one that's turned out for it so far. There's still time to see the "new Tom Hanks movie" before it leaves theaters, so check it out. Maybe A Hologram for the King doesn't have the scale or backing of a "regular" Tom Hanks movie, but it's just as universally appealing as some of his most memorable hits. You don't have to be a sadsack businessman to connect with Alan Clay's story or to enjoy watching Tom Hanks play one of his most vulnerable characters to date.
A Hologram for the King is now in limited release.