'X-Men: Apocalypse' Featurette Explains What Apocalypse Is All About (And Why He Wants To Kill You)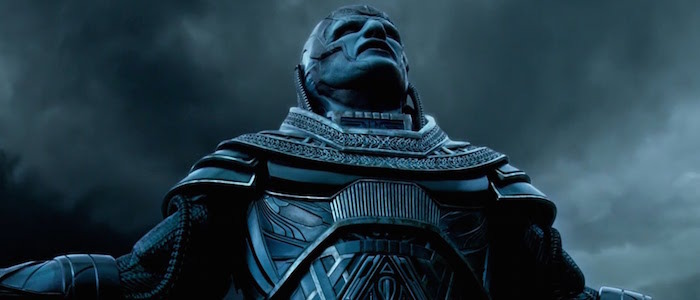 If the subtitle to your movie is the name of the villain, that villain needs to be something of a big deal. Take X-Men: Apocalypse. As Apocalypse's name implies, he is a big deal. The world's first mutant is thousands of years old and is a walking, talking greatest hits collection of superpowers that he's picked up over the years. Plus, he's played by the consistently wonderful Oscar Isaac, who appears to be having a grand ol' time playing a supervillain in the trailers.
20th Century Fox has released a new promotional featurette that examines the history and motivation of the latest X-Men bad guy and it's not going to tell the faithful anything they don't already know. However, it's an effective enough primer for the casual crowd, and let's just be honest with ourselves here – those are the people who make these movies hits.
The featurette contains talking head commentary from director Bryan Singer (relaxed, informative), James McAvoy (enthusiastic, charming), and Michael Fassbender ("please let me be anywhere else in the world right now"), who run down what we can expect from Apocalypse. Strangely absent from the proceedings is Isaac himself. Look, all I really want is B-roll footage of Isaac in full Apocalypse make-up dancing like his Ex Machina character. Is that too much to ask?
What I find most intriguing about this featurette is the suggestion that the film won't treat Apocalypse as a simple-minded supervillain, which would be an easy route for a monstrous-looking guy named Apocalypse. The suggestion seems to be that this ancient being views the Earth of 1983 (the film's setting) as corrupt and that wiping out humanity is, in his mind, the best possible action to preserve the planet. That's the kind of thinking that fuels the worst monsters in human history, but it's also the kind of thinking that makes a villain more interesting. The best bad guys truly believe that they are doing the right thing.
As interesting as it is, this is the third time Fox has released a video taking a dive into Apocalypse. C'mon! Show off Cyclops and Jean Grey and the rest of the new mutants you've gathered for this adventure.
Here's the official synopsis for the film:
Following the critically acclaimed global smash hit X-Men: Days of Future Past, director Bryan Singer returns with X-MEN: APOCALYPSE. Since the dawn of civilization, he was worshipped as a god. Apocalypse, the first and most powerful mutant from Marvel's X-Men universe, amassed the powers of many other mutants, becoming immortal and invincible. Upon awakening after thousands of years, he is disillusioned with the world as he finds it and recruits a team of powerful mutants, including a disheartened Magneto (Michael Fassbender), to cleanse mankind and create a new world order, over which he will reign. As the fate of the Earth hangs in the balance, Raven (Jennifer Lawrence) with the help of Professor X (James McAvoy) must lead a team of young X-Men to stop their greatest nemesis and save mankind from complete destruction.
X-Men: Apocalypse opens in theaters on May 27, 2016.