'Justice League' Is Bringing Back Jeremy Irons As Alfred To Help Batman Round Up The Team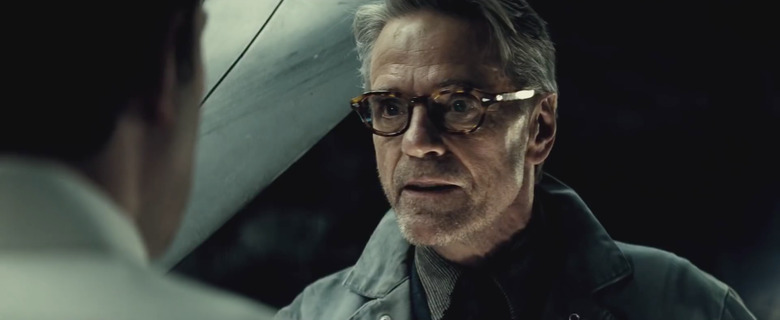 Even though production on Justice League is underway across the pond in London, we still haven't confirmed the full cast for the first big screen assembly of DC Comics most iconic superheroes. It's a forgone conclusion that Ben Affleck, Gal Gadot, Ezra Miller, Ray Fisher and Jason Momoa will all be back as Batman, Wonder Woman, The Flash, Cyborg and Aquaman. It's also probably likely that Henry Cavill will be back as Superman, though considering the events of Batman v Superman: Dawn of Justice, maybe he'll sit the first part of Justice League out.
Now one more member of the supporting cast has been revealed with Jeremy Irons coming back as Alfred, presumably offering guidance and assistance to The Dark Knight as he attempts to round up the other superheroes for Justice League.
Word Jeremy Irons in Justice League comes from Showbiz 411, who heard the news straight from the actor himself.  However, he doesn't seem to have offered any details on just how big his role will be in the movie. But considering how integral he was to helping Batman while he was out for his dangerous nights in Gotham City, it would make sense that he would be brought back to help out again.
Jeremy Irons new take on Alfred is probably one of the best things to come out of Batman v Superman. It was nice to see Alfred doing a little more back at the Batcave to assist Batman with his nocturnal crimefighting. While Michael Caine was an outstanding Alfred in Christopher Nolan's Dark Knight trilogy, the franchise never really let Michael Caine do much to help Bruce Wayne other than offer sage advice and call Lucius Fox for help. But Irons is much more hands one the the superhero side of Master Wayne's life.
Beyond Irons, the only other supporting cast members who have been revealed for Justice League will be J.K. Simmons as Commissioner Gordon, another staple Batman character, Willem Dafoe in some kind of mystery role and Amber Heard making her debut as Aquaman character Queen Mera.
With the roster including two supporting Batman characters, it's clear The Dark Knight will be at the center of Justice League, which was hinted at in the conclusion of Batman v Superman. Since he's a much more interesting character than Zack Snyder's take on Superman, that's probably the best decision. And surely Wonder Woman will have plenty to do this time as well.
The question is whether any of Superman's usual supporting characters such as Amy Adams as Lois Lane and Laurence Fisburne as Perry White will be involved in Justice League at all. The return of Lex Luthor also seems to be up in the air according to Jesse Eisenberg, so maybe Superman really will be sitting this one out.
Stay tuned for more details on Justice League as we hear them leading up to the November 10, 2017 release date.